Skip to content
Skip to navigation menu
Kokoba Cat Litter Tray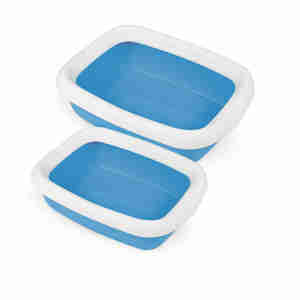 Rollover image to zoom
Product details
The Kokoba cat litter tray has a protective edge to keep your floor clean and free of cat litter.
How it works
This tray is made from hard-wearing and high-quality plastic, meaning it's durable and long-lasting. The protective rim around the edge makes it difficult for your cat to kick litter out of the box when they're finished doing their business. It's removable, so washing it is a breeze. It's also easy for cats with mobility issues to step into, making it perfect for older pets.
Key benefits
protective edge stops spraying
made from high quality plastic
edge is removable for easy cleaning and litter changing
open tray is reassuring for anxious pets
easy for elderly or unwell cats to step into.
When to use it
Although litter boxes have lots of benefits (the biggest being that it's hard for your pets to kick litter out of them), some cats get anxious in enclosed spaces. Kittens, especially, can be nervous using a covered box. Because this tray has a protective edge, your furry pal won't be able to spray over the floor, but they still have the safer feeling of using an open tray.
Cats are very private creatures, and even if they don't like using an enclosed box, they'll still want somewhere peaceful and out of the way to do their business. It's best to choose a spot in a corner, in a quiet part of the house. You should also keep it away from their food and water bowls. Cats are clean creatures and can become uncomfortable if their food or water source is too near their toilet.
Customer reviews
Product reviews are filtered by language.
The following reviews are available in English.
Good Sturdy Litter Tray

We bought two of these and use them without the white rim because it's easier for our cat to get into the tray, as he only has three legs. Very good quality and easy to clean. So why two? One to use and one to wash, simples!