Skip to content
Skip to navigation menu
Kokoba Cat Litter Box Carbon Filter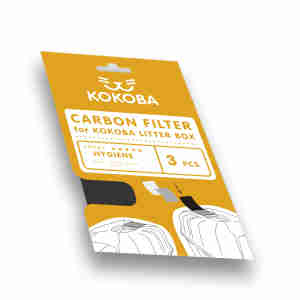 Rollover image to zoom
Product details
Slot a Kokoba cat litter box carbon filter into your Kokoba cat litter box to reduce odours.
How it works
Activated charcoal is well known for its absorbing properties– it's used in aquarium filters to catch bacteria. Pop it next to something that smells strongly and it'll absorb the stench, which is why it's become a popular ingredient in litter box pads. The Kokoba cat litter box has a built-in slot in the cover where you can insert the carbon filter. Simply slip it in, and it should reduce the smells coming from the cat litter. If you have one cat, you should change the filter once a month. If you live in a multi-cat household you might need to change it more often: just follow your nose.
Key benefits
filters out odours from your cat's litter box
compatible with the Kokoba cat litter box
three per pack (three month's supply).
When to use it
If the smell from your cat's litter tray is taking over your home, a carbon filter can reduce the whiff. Sometimes the bad smells come from your cat going to the loo outside their litter box. Keeping their tray clean can encourage them to go in the right place. Clumping litter is great for pulling pee together, so you can remove it. Rake through the cat litter once a day, getting rid of any dirty stuff. Replace it and add a sprinkle of baking powder too. Change the litter entirely once a week, washing the tray in hot water. If you still notice really strong smells coming from the litter box, despite the charcoal and the cleaning, your cat may have gastrointestinal problems or a food intolerance. Speak to your vet if you're concerned about their odour.