Skip to content
Skip to navigation menu
Kitzyme Conditioning Tablets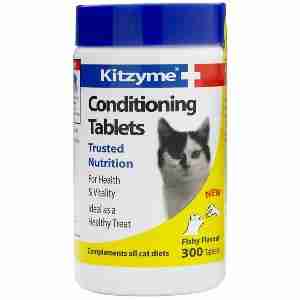 For health & vitality
Ideal as a healthy treat
Fishy flavour

Your cat means the world to you – show them you care by feeding these healthy, yummy tablets. They are specially formulated to contain B-complex vitamins and minerals important to your cat's health and fitness. Feed every day, as B-complex vitamins are water-soluble, they cannot be stored in the body to any great extent.
Helps maintain a shiny, healthy coat and skin
Suitable for kittens and cats, especially in time of need like illness, stress & pregnancy
Helps support natural immune system
Helps to guard against nervousness
Typically 98% fat-free
What are the B-Complex Vitamins?
The B-Complex vitamins comprise of a number of vitamins that exist as a family. Ideally they should not be taken individually, as many work in synergy for maximum benefit.

A deficiency in one may reduce the effectiveness of the other vitamins in this group.

The body also cannot manufacture them and therefore they must be obtained through the diet, with foods naturally high in the essential B-Complex vitamins, such as brewers yeast.

B vitamins are water-soluble. This means that they are not stored in the body for long periods of time, unlike the fat soluble vitamins A, D, E & K. Therefore, it is best that this vital group of vitamins should be replenished daily.

HOW WILL THEY HELP MY CAT?
These Vitamins are essential to help maintain a happy, healthy pet, full of vitality and in good overall condition. Each of the B-Complex Vitamins has a specific role within your pet's metabolism to maintain good health.

B-COMPLEX VITAMINS ARE NEEDED FOR:
Energy
help in the breakdown of carbohydrates, fats and proteins. These processes are in part necessary for energy metabolism, helping to keep your pet fully charged and ready to go. Therefore, one of the major benefits of the B-Complex Vitamins is to help release energy from the food you need.

Muscle Function
help the normal functioning of the muscles and promote good growth and muscle tone, helping to keep your pets on their paws for many years.

Immune System
help enhance the immune system function, which will help maintain a healthy digestive system and help protect against infection. The B-Complex vitamins will also help in promoting a healthy appetite, so they are excellent if your cat is recovering from illness or run down.

Nervous System
help strengthen the nervous system function which will help your pet to activate, co-ordinate and control all of the body functions more efficiently.

Cell Growth
promote cell growth enable the body to function correctly.

Healthy Blood Cells
maintain healthy blood cells; this includes red blood cells that are responsible for circulating oxygen round the body, as well as white blood cells that fight infection.

Skin Condition
promotes a healthy skin by producing good skin cells regularly, helping the skin to retain its moisture and nourishment from the inside.

Coat Condition
promote a healthy glossy coat by ensuring that the hair fibres are strong and interlocked together giving your pet's coat strength and vitality.


DAILY RECOMMENDATIONS


Daily Recommendations
Kittens...............................0.5 - 6 Tablets
Adult Cats.............................3 - 6 Tablets
Queens in Kitten.........................6 Tablets

Kittens
4 - 8 weeks..................................0.5 tablet
8 weeks - 3 months.........................1 tablet
3 - 6 months.............................3 - 6 tablets
6 - 10 months.................................6 tablets
10 months and after........................3 tablets
Dried Brewers Yeast, Vegetable Protein, Dicalcium Phosphate, Encapsulated Fish Oil, Calcium Carbonate, Silicon Dioxide, Magnesium Stearate, Fish Powder
Customer reviews
Product reviews are filtered by language.
The following reviews are available in English.
These tablets are brilliant my ragdoll cat now has a lovely glossy coat and she loves the taste of them.

I gave these to my last cat for over 15 years and about 3 months ago this year he suddenly decided he wouldn't eat them any more after really loving them, I didn't know the ingredients had been changed, he must have. I lost my cat late June. I now have a new kitten, he will eat these knowing no better I guess in the taste difference. I will see how he gets on eating them, he is fine so far, he only has 1 tablet daily due to his age.

I am buying more tablets! Yes I know what I said before but I have learned a little trick. My cats will stand on their heads for dreamiest, so I feed them dreamiest one after the other and at high speed, and somewhere in the middle of the "dreamiest feeding frenzy" I slip them a Micky fin, otherwise know n as a kitizyime conditioning tablet. They are so excited they never even notice. I have managed to get plenty of tablets down them and their coats are soft and gleaming their temperament improved.

My cats wont take pills.. but they loved these. too soon to tell if they have an effect though on condition and health.. but they like them and thats a great start as they are very fussy

I read the previous review, but thought as my cats are rescue cats, scavenging anything and everything off the streets, they would take these. No chance, they spit them out exactly as previously described. Waste of money!