Skip to content
Skip to navigation menu
Joint Aid For Dogs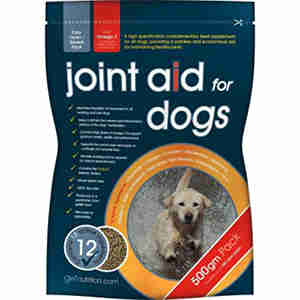 Product details
A high specification complementary feed supplement for all dogs that may help in maintaining healthy joints. Through the use of 12 specific active ingredients, Joint Aid may provide support to the normal wear and repair of cartilage, synovial fluid, tendons and joints in the skeletal structure and hence helping to maintain flexibility of movement throughout the life of the dog.
Key Benefits:

-may help maintain flexibility of movement in all working and pet dogs.
-contains high levels of Omega 3 that may help support optimum health and performance.
-supports the normal wear and repair of cartilage and synovial fluid.
-provides the building blocks required for natural replenishment.
Wheat gluten free.
100% Non GM - soya free formulation.
Customer reviews
Product reviews are filtered by language.
The following reviews are available in English.
Joint Care

My dog is a German Shepherd and is 12months old and has been diagnosed with Hip Dysplasia. This product has been amazing I have used this for 2 weeks now and my dog is not lame nor is he limping anymore. I'm am going to keep using this product as it is a life saver and with ingredients such as Tumeric this is a anti inflammatory as it is... hopefully this will keep him away from pain killers which I don't want him to be on.

Give it a go ...... you will be surprised

I have used joint aid for years, for some reason I stopped, my 10 year old started to lag behind and at one stage did not want to walk. She has a heart murmur and we thought it was that. We had test and she was ok. We put her back on the joint aid and within a week you could not stop her. Best thing ever. Will never take any of my dogs off it again.

Old age dog

Jack has been taking Joint Aid for Dog for a few years now. He is 12 and has arthritis in his shoulder. He also takes other medication. I'm sure it helps him, but I haven't taken him off it to check.

Joint aid

Elderly dog with tendency to lameness in right shoulder. Limping much less obvious now.

I have an 8 year old Border Collie who has for years suffered back leg joint problems. I started to use Joint Aid 5 weeks ago and the change from "constant limp" to "get up and go" has been stunning. I have a new and happy dog.