Skip to content
Skip to navigation menu
James Wellbeloved Senior Cat Lamb Pouch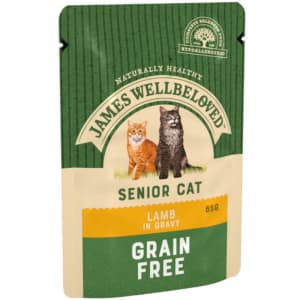 Product details
James Wellbeloved Senior Cat Lamb Pouch is complete dietetic wet feed for senior cats. A complete wet food with the bonus that it is hypo-allergenic. With selected protein source (lamb) and selected carbohydrate sources (potato and cassava) it is a dietetic food, excellent for the reduction of ingredient and nutrient intolerances. We suggest that the food be tried for a period of 3 to 8 weeks. If the signs of the food intolerance disappear, continue feeding indefinitely.
Additional Information
| Body weight (kg) | Lean / very active | Normal | Indoor / overweight |
| --- | --- | --- | --- |
| 2 | 2 | 1.67 | 1.33 |
| 3 | 2.67 | 2.25 | 1.75 |
| 4 | 3.25 | 2.75 | 2.25 |
| 5 | 3.75 | 3.25 | 2.5 |
| 6 | 4.33 | 3.67 | 3 |
| 7 | 4.75 | 4 | 3.25 |
| 8 | 5.25 | 4.5 | 3.5 |
If feeding both wet and dry food during the day, reduce the daily allowance of dry food by 20g for every pouch fed.
Customer reviews
Product reviews are filtered by language.
The following reviews are available in English.
Still eating Senior Lamb

I did a review 4 years ago when my cat was 7. She is now 11 and still loves the senior Lamb for breakfast every morning plus the JW biscuits for lunch, dinner and supper.

She mostly likes it

My cat aged 14 is fussy but mostly enjoys the product, although as with all food, she will eat 80% of what is provided, and when the next lot is put out, she eats 80% of that and so on, but that is normal for her. Only once or twice has she not felt like eating it, so very much worth trying.

My cat would not eat it

My cat is very choosy what she eats. She turned her nose up at this one!

My cat age 7 has irritable bowel and is not allowed chicken products. I put her on the Lamb pouches just recently and have just ordered 48 pouches again.She loves it very much and all she vomits now are furballs. As a vet nurse I would advise to introduce any new food over 10 days giving 25% JW to 75% previous food for 3 days, then 50/50 for 3 days,75/25 for 3 days then 100% JW. I also feed her JW senior fish.She has an excellent shiny coat and is still very bouncy.

My 19 year old cat has not been able to eat any wet food for the last few years as all brands have upset her tummy. However, I was recommended this brand by my pet sitter and my very old cat has never been happier and is putting on weight by the day. She also very much enjoys this brand of biscuits. I would recommend this wet and dry food for older cats with sensitive tummies.