Skip to content
Skip to navigation menu
James Wellbeloved Kitten Turkey Pouch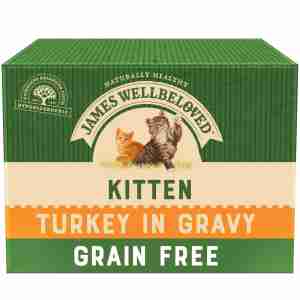 Rollover image to zoom
Product details
James Wellbeloved Kitten Turkey Pouch Complete dietetic wet feed for kittens. A wet food with the bonus that it is hypo-allergenic. With selected protein source (lamb) and selected carbohydrate sources (potato and cassava) it is a dietetic food, excellent for the reduction of ingredient and nutrient intolerances. We suggest that the food be tried for a period of 3 to 8 weeks. If the signs of the food intolerance disappear, continue feeding indefinitely.
Customer reviews
Product reviews are filtered by language.
The following reviews are available in English.
Kitten thinks Christmas has come early

Tried the Turkey & Lamb varietys in this range and our kitten literally laps it up. The food looks very nutritious & appetising & from our kittens response must taste as good as it looks! Will deffinately be buying this again!

My kittens love this, their coats are very shiny and healthy. I also feed them the JWB kitten dry which they also love.

My rescued kitten started flatulate a lot and having diarrhea after being fed with Felix kitten pouches, which was the best one I found in my supermarket. A quick search showed that most brands put grains in the food which apparently is bad for their digestion. I found JW at a pet shop which doesn't, as well as other products. With great surprise it solved all problems in couple days. It would be good if JW had more varieties but it is a very good product. Unfortunately I never found it in supermarkets.

initially fed this to my kittens but started mixing it with cheaper supermarket food to bring costs down. The result was that their fur went from super glossy to duller. I now solely feed this food again due to a good deal I got on here and find that the fur has gone back to wonderfully glossy. Even my neighbour noticed and commented on their glossy fur yesterday. I would think that glossy fur is based on healthier body overall. They also seem sated for longer on this food. Not going back to supermkt stuff!

My 10 month Bengal was found to have a food allergy, I struggled searching for a wet Hypo-allergenic high quality cat food that wasn`t a paste or jelly. The food is appetising and has a pleasant non pungent smell, she absolutely loves the taste and unlike other cat foods eats it up as soon as I put it down for her. I noticed a response in her stools after only a week, her coat is shinier, softer and her bodies build is more defined and muscular. Would highly recommend, James Wellbeloved`s customer service i