Skip to content
Skip to navigation menu
James Wellbeloved Dog Adult Lamb & Vegetable Grain Free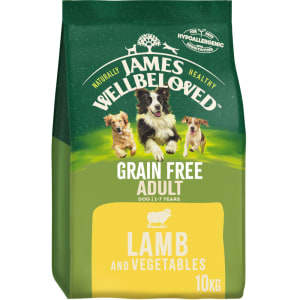 Product details
This James Wellbeloved dog adult lamb & vegetable kibble has everything most adult dogs need for a healthy, balanced diet and can help your pet avoid allergic reactions.
How it works
Some foods can irritate your pooch's stomach or immune system and that can lead to a number of allergic reactions like dry skin or vomiting after meals. This food is hypoallergenic, which means that the proteins it contains, like lamb, are carefully selected to be as easy-to-digest for your dog as possible. The vitamins and minerals promote healthy joints, while omega-3 and omega-6 fatty acids help your dog have a glossy, healthy-looking coat.
Key features
promotes a healthy coat
hypoallergenic and easy to digest
no artificial colours or flavours
contains all-natural ingredients
includes glucosamine for joint support
natural prebiotics to encourage the growth of healthy bacteria in the gut
everything most adult dogs need to stay healthy and happy.
When to use it
What your dog eats can have an important effect on their health, especially if they have a sensitive stomach. Allergies are often irritated by proteins in food, as your pet's body might have trouble breaking them down. This can lead to skin irritation, loose stools after eating, and vomiting.
If you see any of these signs, then you should always consult your vet. They may recommend a change in diet, and this James Wellbeloved dog adult lamb & vegetable kibble recipe can often be part of a healthy new start. The proteins are much less difficult for your dog to digest. The range of vitamins, minerals, and oils, contribute to general health, and the prebiotics (carbohydrates which help promote healthy bacteria in the gut) can help your dog's stomach and digestive system to stay in balance.
Customer reviews
Product reviews are filtered by language.
The following reviews are available in English.
james wellbeloved turkey +rice

had to change my 8 year old staffie to james wellbeloved he loves it great price as well will be a regular order for me one happy staffie

Great product for sensitive systems

My staffie/lab cross was constantly having problems with a runny tummy and, as a consequence, with his anal glands. Someone recommended changing his food to James Wellbeloved and he has never looked back! Would definitely recommend trying it.

Grain free James Wellbeloved

Since having our third West Highland puppy he was given this - Junior first Although he doesn't have a skin problem this was a safe guard He's nearly 12yrs & all is good with him - hard to believe he's this age

James Wellbeloved Adult Lamb and Vegetable

Golden Retriever Pepper suffered with colitis for months - changed to this food and the colitis resolved

Long-time Favourite

My Springer developed red, sore patches and lost a lot of hair from his chest and stomach. The vet suggested hypo-allergenic food and we did try several, but the lamb seems to be the favourite. Though the skin is still pink , his hair has grown back and he is a much happier dog! We have stuck with this brand for some years now and won't be changing although it is more expensive than some others.