Skip to content
Skip to navigation menu
Add to an existing Repeat Order
Add to an existing Repeat Order
Licensed item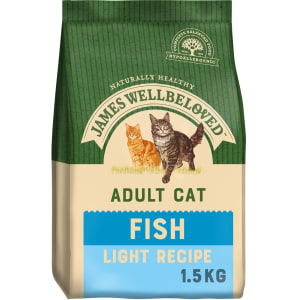 James Wellbeloved Cat Adult Light Fish
This is a licensed item so for regulatory reasons and to ensure we are providing the best product for the health of your pet, we need to ask you to confirm a few details.
Please confirm the type of animal you will be giving this licensed product to:
I am aware of the relevant safety precautions relating to the licensed products.
I will read the packaging and product literature before using any licensed products, and will use all licensed products according to the manufacturer's datasheet
I am not buying for resale and I am happy to be contacted if required
I confirm that the animal the licensed products will be given to is in general good health
I confirm that the animal the licensed products will be given to is NOT pregnant or lactating
Add to an existing Repeat Order
Licensed item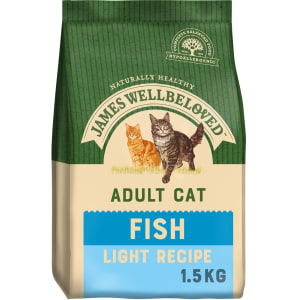 James Wellbeloved Cat Adult Light Fish
This is a licensed item so for regulatory reasons and to ensure we are providing the best product for the health of your pet, please read and confirm the details below:
By purchasing this product, you confirm your pet has been examined by a vet who has recommended the use of this food on the basis of examination and diagnosis.
You understand it is recommended while your pet is being fed this product, you seek veterinary advice at least every 12 months regarding the usage of this food and the on-going care of your pet.
Should your pet's condition deteriorate in any way while using this product, seek immediate veterinary advice.
Add to an existing Repeat Order
You are adding: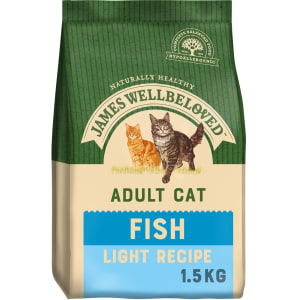 James Wellbeloved Cat Adult Light Fish
To the following repeat order:
Next order due on:


Delivered every
ending
Add to an existing Repeat Order
Thank you, we have updated your order. Your order is due on
You're setting up the following repeat order: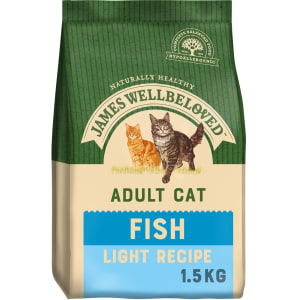 James Wellbeloved Cat Adult Light Fish
Product details
James Wellbeloved Light Fish is a healthy dinner for adult cats, helping them to maintain a healthy weight while providing all the nutrients they need for an active life.

How it works
This lighter meal helps to control weight in adult cats over the age of one year. With healthy fish proteins and satisfying rice carbohydrates, your pet will feel full after their meal and will be less tempted to overeat. The ingredients are hypoallergenic too, so James Wellbeloved Light fish is ideal for cats with intolerances to wheat, meats or poultry.
The recipe includes chicory, a natural prebiotic, which aids the development of good bacteria in the stomach to improve digestion, as well as yucca extract to help to reduce stool odour. Omega-3 and 6 fatty acids keep their coat and skin in top condition, while cranberry extract supports your pet's urinary health.

Key benefits
nutritionally balanced meal for cats over the age of one year
all-natural ingredients and no artificial preservatives
white fish protein provides a lighter meal
suitable for cats with food intolerances
natural prebiotics aid digestion
cranberry extract maintains urinary tract function
yucca extract reduces stool odour
essential fatty acids keep coat and skin healthy
When to use it
If you've noticed that your cat has grown a little heavier, it could be down to overeating. Carrying additional bulk can put a strain on their joints and they may be reluctant to exercise. Your cat won't be working off their meals if they're not spending time outside and could start to lack energy and feel lethargic.
Feeding them a nutritionally balanced lighter meal will help them to maintain an ideal body weight and give them a boost of energy. Dietary fibres and prebiotics keep the digestive system functioning well, so your cat can absorb as many nutrients as possible from every bite.
Additional Information
| | | | | | | | |
| --- | --- | --- | --- | --- | --- | --- | --- |
| Average weight of cat (kg) | 2 | 3 | 4 | 5 | 6 | 7 | 8 |
| Daily serving (g) | 38 | 51 | 63 | 74 | 84 | 93 | 103 |
| Normal | 32 | 43 | 52 | 61 | 70 | 78 | 86 |
| Indoor / Overweight | 26 | 34 | 42 | 49 | 56 | 62 | 69 |
The recommended daily serving is only a guide as requirements vary from cat to cat and can depend on whether other foods are also offered.
Customer reviews
Product reviews are filtered by language.
The following reviews are available in English.
James Wellbeloved

At the moment my cat seems to really enjoy the taste of these fishy biscuits. Such a change from the usual meaty ones I have previously been giving her .

James wellbeloved

My cat has been on the fish light version for over a year now she has a little wet food per day also. The vet says she has excellent teeth and this light version is helping her loose weight gradually. Was impressed with the ingredients in this food, a high protein content compared to other cat foods, which is essential for cats.

James Welbeloved light

My cat likes it, it suits his sensitive digestion system and helps keep his weight in check.

Very fussy pusscat

She started sicking up after every meal time. I tried every trick in the book. I got so worried that i took her to the vet ,after some expensive tests and a talk with him i put her on a dry fish only diet . The little madam has been on this food for six weeks and no more sick!!

MY CAT ADORES THESE!!

So glad i found these - James Wellbeloved seem to put thought and care into their products and my fussy kitty - who is just a wee bit on the plump side lol - really does love these.