Skip to content
Skip to navigation menu
James Wellbeloved Cat Adult Food Turkey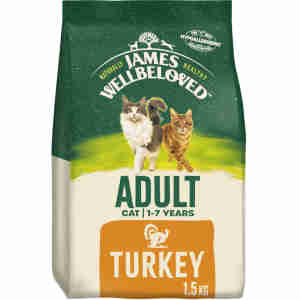 Rollover image to zoom
Product details
James Wellbeloved Cat Adult Food Turkey is a hypoallergenic mix tailored to provide a healthy diet for cats with sensitive skin and food intolerances.
How it works
The food contains added vitamins and minerals to support your cat's health, while helping to limit the effects of food intolerances. Omega-3 and omega-6 fatty acids not only help to transport proteins more effectively around your cat's body, they also promote a glossy coat. Some proteins, such as beef or dairy, can cause intolerances in your cat. Turkey is the main source of protein in this food - a healthy choice that can also reduce or avoid food intolerances, meaning that the food is hypoallergenic, or less likely to cause allergic reactions. Added taurine is also included, and promotes a strong heart and good eyesight. No artificial colours, flavours, or preservatives are used. This further limits the risk that your cat will suffer from any food intolerances. Yucca extract promotes the build-up of good bacteria in your cat's gut, too, which can contribute to a healthy digestive system. This is further aided by the inclusion of cranberry extract, which is can be beneficial to your cat's kidneys, reducing the risk of infection.
Key benefits
vitamins and minerals provide balanced, healthy diet
omega-3 and omega-6 fatty acids promote a glossy coat
turkey is the only protein source, and less likely to trigger food intolerances
added taurine promotes heart and eye health
no artificial colours, flavours, or preservatives
yucca extract aids good bacteria in your cat's system
cranberry extract can promote kidney health.
When to use it
Food intolerances are common in cats just like they are in humans. A food intolerance often occurs when your cat's digestive system is unable to process a certain type of ingredient in their diet. This is most commonly some forms of protein (such as beef or dairy), but could be caused by any number of ingredients. Symptoms can include vomiting, a dull coat, lack of energy, or over grooming. Often, a change in diet to a hypoallergenic food such as James Wellbeloved Cat Adult Food Turkey can relive the problem for your cat. Always consult your vet however, as intolerance symptoms can also be indicative of other conditions.
Additional Information
| Average weight of cat (kg) | Daily serving (g) |
| --- | --- |
| 2 | 40 |
| 3 | 50 |
| 4 | 60 |
| 5 | 70 |
| 8 | 125 |
The recommended daily serving is only a guide as requirements vary from cat to cat and can depend on whether other foods are also offered.
Customer reviews
Product reviews are filtered by language.
The following reviews are available in English.
James Wellbeloved

My cats just love the dry turkey

Cat food

My cat will eat this some of the time but have to give him other food as he is very picky. Looks a very good food, although when it's gone I will try him with something else. He is 17 years old.

Turkey Oral health got cold shoulder.

The ordinary Turkey is one of my cats favorites, but unfortunately I tried out the oral health one on them and they didn't go for it at all; It's in much bigger pieces and I think this puts them off.

Quality food

My cats love this and never tire of it. I am a volunteer for Cats Protection and at our branch the foster cats are also fed on this.

Excellent service

My cats food was delivered as usual in a fast and excellent service. I would recommend this company to anyone wanting the best food possible for their pets.