Skip to content
Skip to navigation menu
James Wellbeloved Adult Dry Dog Food Turkey & Rice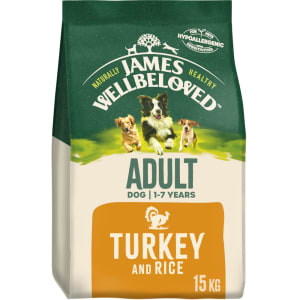 Product details
James Wellbeloved adult dog food with turkey and rice is specially designed for pets with allergies to ingredients commonly used by other brands.
How it works
This complete dry dog food is made from all-natural ingredients and fortified with extra vitamins and minerals to support their day-to-day health. By avoiding beef, dairy, wheat, egg, chicken, lamb, soy, rabbit and fish (the most common causes of allergic reactions in dogs), James Wellbeloved adult dog food provides all the nutrition your dog needs without running a risk of skin or stomach irritation.
Turkey is a lean meat and an excellent source of protein, which your dog needs to keep their bones, tissue, muscles and blood healthy. Rice and oats are also included as a gluten-free source of carbohydrates to fill up your dog and provide them with plenty of energy for playing and walks.
Key features
complete, balanced and hypoallergenic
added omega-3 fatty acids help keep the coat healthy and glossy
contains only one type of protein, turkey, as well as turkey fat and turkey gravy
includes carefully balanced fibres, including natural chicory inulin
includes no added artificial colours, flavours or preservatives
yucca extract reduces stool odour.
When to use it
Some common signs that your dog may have a food allergy or intolerance include a visible skin rash or general itching and obsessive licking. Skin problems and irritations could indicate that your dog's immune system is overreacting to a particular ingredient and perceiving it as a threat, causing an allergic reaction. Food intolerances generally appear as digestive issues – your dog may vomit after eating or have frequent diarrhoea. If this persists please see your vet to rule out non-allergy related causes.
James Wellbeloved adult dog food is available in bags of different sizes, so you can stock up on plenty of healthy, non-allergenic food and know you won't run out.
Customer reviews
Product reviews are filtered by language.
The following reviews are available in English.
Good for sensitive stomachs

Our dog has a sensitive stomach but this food suits him well -he enjoys it and it never causes any digestive problems.

james wellbeloved pouches & kibble

My dogs all love the kibble and a little of the pouch gives them a tasty topper!

Dogs Love It!

Have used this for our three Westies for years, also with the Wellbeloved topping pouches. It's rare on this food for dogs to have an upset stomach and they all seem to be loving the food.

Turkey and Rice Adult dog food

I have used this for 6 years and have just opened a fresh 15kg bag. It looks quite different to normal. Not the normal round shape feed, but smaller and different shapes, hearts etc. Looks more like puppy food to me. If it has been changed I would like to know. Why is there not a mention on the bag. Other than this everything excellent. Hope someone from JW comes back to me. 7 Sep 2018.

James Wellbeloved Adult Turkey and Rice 7.5kg

Constantly satisfied with Pet Supermarkets cost of the Dog Food and the process of delivery; often delivered before the dates quoted. Dog enjoys the food, which is most important !!