Skip to content
Skip to navigation menu
Indorex Household Flea Spray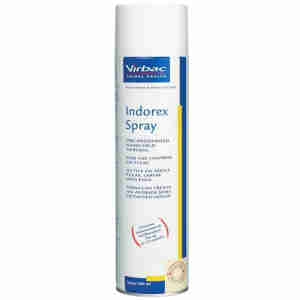 Rollover image to zoom
Product details
Indorex Household Flea Spray has been designed to keep your house flea-free for up to 12 months.
How it works
Indore is an effective treatment for ridding your house of fleas. As fleas spend most of their time in your pet's surroundings and not actually on your pet, treating your home is as important as treating your animals.
The active ingredients of the product are Permethrin, Pyripoxyfen and Piperonyl Butoxide. Between them, these three substances kill adult fleas and stop the development of eggs and larvae of fleas and house dust mites. Due to its effectiveness in killing dust mites, the product can also greatly alleviate the symptoms of allergies in both you and your and pets.
One can of Indorex should be enough to cover an average three bedroom house and provides protection for up to one year.
Key benefits
effective at ridding your home of fleas for up to 12 months
contains ingredients to kill adult fleas, eggs, larvae, and dust mites
only one can needed to treat an average three bedroom house.
When to use it
If your pet has fleas, you'll notice them scratching and biting at themselves more than usual and you might see small red bumps under their fur. Since fleas will also bite humans who are in close range of them, the first sign of their presence you see might even be on your own skin.
If you suspect that your pet does have fleas, you'll want to treat them with your usual flea treatment straight away. Fleas can transmit tapeworms, so it's also important to worm your pet regularly to guard against this. By treating your house with a product such as Indorex, can break the flea lifecycle and give your pet some added environmental protection.
Ingredients
Active ingredients: permethrin, pyripoxyfen, piperonyl butoxide.
Customer reviews
Product reviews are filtered by language.
The following reviews are available in English.
Kills fleas

This has actually worked, I have 2 dogs and 3 cats so am always battling fleas but this has stopped them

INDOREX IS A GREAT PRIDUCT

I have used this for many years after using Acclaim before. Indorex is so much better and does so much more than the other brand. Easy to use and not overbearing with fumes at all like acclaim was. I would recommend this spray and the company to anyone out there with cats. No more flea bites after using for a year, then just repeat process. GOTCHA FLEAS YOU HORRIBLE LOT

Fleas

Good stuff works well my dogs stopped scratching

Works!

We haven't had fleas in the house since the cats were kittens, but this definitely works to keep them away. I personally only use this about once a year and have never had a problem. Definitely a spray, run and lock the doors situation, but once it's done, it's done for a while. Highly recommend.

Excellent

Use this site for loads of pet products, especially this one. It works absolutely perfectly around the home and it really does keep fleas away for a year & providing you regularly flea your pets on top. I'm also pleased to say that delivery was quick and easy as well as glad they are using my Hermes now who have never been a problem with delivery from them and having used them on other websites They've always left a card if I wasn't in. So I'm happy about the product and the fact pet supermarket is now using my hermes.