Skip to content
Skip to navigation menu
Hills Science Plan Mature Adult 7+ Active Longevity Chicken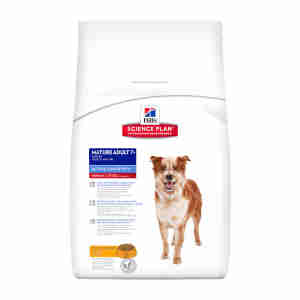 Rollover image to zoom
Product details
Hill's Science Plan Canine Active Longevity Mature/Adult 7+ Medium helps to keep your dog's joints healthy.
How it works
Hill's Science Plan Canine Active Longevity is a complete dog food that contains a specifically formulated balance of nutrients to protect your dog inside and out.
It's perfect for older dogs and those with poor joints ' years of rough-and-tumble playing can lead to your pup's joints becoming inflamed and the cartilage being worn down. A mix of glucosamine and chondroitin from natural ingredients reduces inflammation and helps repair and rebuild cartilage.
As well as supporting their joints, this mix has a balanced level of sodium and phosphorus to keep your dog's vital organs healthy. Highly digestible ingredients mean that your pet can absorb the maximum amount of nutrients from their food.
Key benefits
a complete mix to support your dog's joints
glucosamine and chondroitin reduce inflammation and repair cartilage
balance of sodium and phosphorous keep vital organs healthy
highly digestible ingredients for maximum absorption.
When to use it
Years of running, jumping and playing can have a negative effect on your pet's joints. As they get older, the cartilage in their joints can become worn down and inflamed making it difficult for them to walk and play comfortably.
If your pet has difficulty jumping or climbing stairs, is reluctant to move or play as much as they used to, or seems in pain with their limbs, they could have a mobility issue. If you recognise these symptoms, take your pet to the vets for a checkup as soon as possible.
This complete food can replace your dog's normal meal for life. Check the feeding instructions for the appropriate portion for their weight and breed and monitor their reaction during the first few weeks.
Ingredients
Composition:
Mini/Medium with Chicken: (minimum Chicken 20 %, minimum Chicken and Turkey combined 30 %): Ground maize, ground wheat, chicken and turkey meal, animal fat, digest, dried beet pulp, pea bran meal, vegetable oil, flaxseed, L-lysine hydrochloride, potassium chloride, salt, calcium carbonate, DL-methionine, L-threonine, L-tryptophan, taurine, vitamins and trace elements. Naturally preserved with mixed tocopherols, citric acid and rosemary extract.

Large Breed with Chicken: with Chicken (minimum Chicken 16 %, minimum Chicken and Turkey combined 25 %): Ground maize, ground wheat, chicken and turkey meal, animal fat, digest, soybean meal, maize gluten meal, pea bran meal, flaxseed, vegetable oil, L-lysine hydrochloride, calcium carbonate, L-carnitine supplement, potassium chloride, salt, L-threonine, DL-methionine, taurine, L-tryptophan, vitamins and trace elements. Naturally preserved with mixed tocopherols, citric acid and rosemary extract.
Analytical constituents:
Protein 17.3%, Fat content 10.5%, Crude fibre 12.0%, Crude ash 5.5%, Calcium 0.85%, Phosphorus 0.58%, Sodium 0.30%, Potassium 0.90%, Magnesium 0.11%; per kg: Vitamin E 600mg, Vitamin C 90mg, Beta-carotene 1.5mg, L-Carnitine 281mg, Glucosamine 478mg, Chondroitin sulphate 644mg.
Nutritional additives:
E672 (Vitamin A) 41,623IU, E671 (Vitamin D3) 1,748IU, E1 (Iron) 220mg, E2 (Iodine) 2.2mg, E4 (Copper) 27.9mg, E5 (Manganese) 9.7mg, E6 (Zinc) 187mg, E8 (Selenium) 0.4mg; with natural antioxidant. Protect from moisture.
Feeding Guide
Recommended quantity/day:
| Dog`s Weight (kg) | Dry food (grams) |
| --- | --- |
| 2.5 | 45 - 60 |
| 5 | 75 - 105 |
| 7.5 | 100 - 140 |
| 10 | 125 - 175 |
| 20 | 210 - 290 |
| 30 | 285 - 395 |
| 40 | 355 - 490 |
| 50 | 420 - 580 |
| 60+ | 9 per kg |
Always make sure that your dog has access to plenty of water.
Dosage
Hills™ Science Plan™ Canine Mature Adult Active Longevity
Body Weight kg

Dry

grams

2. 5

45

-

60

5

75

-

105

7. 5

100

-

140

10

125

-

175

20

210

-

290

30

285

-

395

40

355

-

490

50

420

-

580
Feeding The Correct Amount
It is important to remember however that these figures are guidelines only, and there are several factors to be taken into account when assessing your pet's nutritional requirements : -
Activity level
Temperament (stressed animals burn off more calories than relaxed ones)
Metabolism (every animal is an individual with his or her own speed of metabolism; this means that 2 dogs of the same age, breed and weight could have different daily calorie requirements)
In order to provide the correct portions when feeding your dog or cat, it is also helpful to assess your pet's appetite, visual appearance and stools. Whilst poo watching does not sound particularly pleasant, it is one of the best indicators of health. Increased frequency of passing faeces, production of large quantities of stools of loose motions are often frequent signs that an animal is receiving more food than he or she requires.
It is important to obtain an accurate weight for your cat or dog, and also to weigh out the food. Guessing on both accounts gives a large margin of error.
Changing Food Brands
For a successful diet change, we recommend following the feeding pattern below. The daily feeding amount should be split into two equal amounts and the proportions of new food increased over the first week as illustrated.

TOP TIPS: For those dogs who do not make eating a priority, here are some additional points:
- Reduce the number of tit-bits given during the introductory period
- If your dog has been used to eating wet food, moisten with warm water.
DAY 1-2

75% Original Diet
25% New Food
DAY 3-4

50% Original Diet
50% New Food
DAY 5-6

25% Original Diet
75% New Food
Customer reviews
Product reviews are filtered by language.
The following reviews are available in English.
Great service fast delivery

Science plan food for my dog

Hills Active Longevity mature 7+ Chicken

My dog 9yrs is much more lively and full of fun, looking very fit and healthy, definitely energy boosting.

Hills Active Longevity

My border collie has been on Hills dried food since a puppy. He is now 12 and as lively as ever.

Hills Active Longevity

Great product. My dog has a new found energy

Hills science plan

Our dog Tammy has been having this food since a puppy, using different types as she got older, she is now a healthy fit 14 year old black lab so thankyou.