Skip to content
Skip to navigation menu
You have setup the following Repeat Order: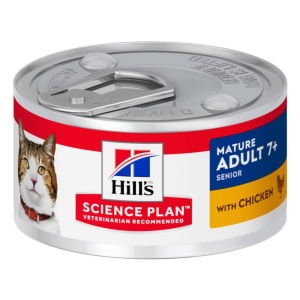 Hill's Science Plan Feline Mature Adult Senior 7+
Product details
Feline Senior Science Plan

KEY BENEFITS

Antioxidant vitamins E&C to help preserve healthy kidneys.
Highly digestible ingredients for optimal nutrient absorption.
Sustains healthy vital organs with balanced mineral levels.
Made with high quality ingredients for great taste. 100% guaranteed.
NUTRITIONAL CHARACTERISTICS
(Compared to Science Plan Feline Adult)
Energy - reduced
Fat - reduced
Calcium and Phosphorus - reduced, to avoid excessive intake
Fibre - increased
Produces urine that is less acidic
INDICATIONS:
Science Plan Feline Senior is formulated to meet all the nutritional requirements of healthy cats from 7 years of age, using highly digestible ingredients.
OBJECTIVE - To avoid the excessive intake of those nutrients which may have a role in the development of disease conditions typically seen during this life-cycle stage.
Science Plan Feline Senior aids in reducing the risk of feline lower urinary tract disease (FLUTD), including oxalate crystalluria and urolithiasis to which older cats are more prone.

Science Plan Feline Senior dry formulas also contain a Superior Antioxidant Formula to reduce oxidative cell damage.

NOT RECOMMENDER FOR:
1. Kittens.
2. Pregnant and lactating queens. During pregnancy or lactation queens should be switched to Science Plan* Kitten.

PACKAGING:
Case: 12 cans of 400 g

FEEDING GUIDE:
Many factors such as environmental conditions, activity level, stage of life and individual variation (temperament, stress) can affect the amount of food needed. Adult cats should be fed only sufficient food to maintain their ideal body weight, in one or two meals per day. Science Plan Feline Senior should not be supplemented as such additions may upset the nutritional balance. Fresh water should be available at all times.

The following feeding ranges are intended as a starting point only and should be adjusted as required to maintain optimal body weight.

DAILY AMOUNT OF FELINE SENIOR:
Body Weight kg (lb) Can(s) (400 g) Dry grams (oz)
2 (4.4) 1/4 - 2/5 30 - 40 (1.1 - 1.4)
3 (6.6) 2/5 - 1/2 40 - 55 (1.4 - 1.9)
4 (8.8) 1/2 - 2/3 45 - 65 (1.6 - 2.3)
5 (11) 3/5 - 3/4 55 - 80 (1.9 - 2.8)
6 (13.2)2/3 - 1 65 - 90 (2.3 - 3.2)

PACKAGING:
Bags: 500 g, 2 kg, 5 kg and 10 kg



Click here for life stage information
Customer reviews
Product reviews are filtered by language.
The following reviews are available in English.
For the last two years I have tried different foods to suit my 23 year old tabby/Siamese mix cat. He is not only old but has a very, very sensitive stomach as well as being most fussy, with not many teeth left. He suffers with over active thyroids and finds it hard to digest and retain his food with the medication to control this. `Hills Science Plan Feline Mature Cans` has been a blessing. Not only is the food economical due to the great ingredients, its smooth texture is easy for my cat to digest. Would