Skip to content
Skip to navigation menu
You have setup the following Repeat Order: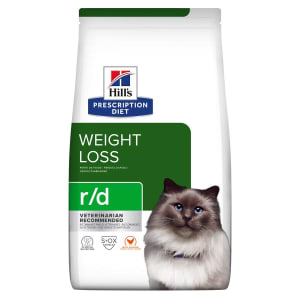 Hill's Prescription Diet Weight Reduction r/d Adult Dry Cat Food - Chicken
Hill's Prescription Diet Weight Reduction r/d Adult Dry Cat Food - Chicken
Product details
Hill's Prescription Diet Feline r/d is designed to help your cat stay at their healthiest by managing their weight.
How it works
It's a carefully formulated food full of ingredients your cat will love that can help reduce and balance weight gain. Just like us, your cat might start to suffer health problems if they are overweight, including breathing problems and diabetes. This food provides your cat with a satisfying, tasty meal so they won't overeat. The formula contains L-carnitine to aid the natural breakdown of fat and preserve muscle in your cat's body, keeping them lean and strong.
The balanced combination of soluble and insoluble fibres can help to maintain your cat's metabolism, as well as contributing to a feeling of fullness to stop them from eating too much. Vitamins C and E add additional support for your cat's immune system too, while antioxidants help prevent the formation of free radicals in your cat's cells. Free radicals, if left unchecked, can attack healthy cells, potentially damaging your cat's immune and nervous system.
Key benefits
stops your cat from overeating thanks to a satisfying recipe
combats weight gain
L-carnitine aids fat breakdown
optimised fibre content contributes to a health metabolism
Vitamins C and E boost your cat's immune system
contains antioxidants to fight free radicals.
When to use it
While your cat is sure to be very active, their weight does need to be monitored. Although you might be keeping an eye on how much they are eating, your cat could be sneaking next door or down the road to get treats from unsuspecting neighbours. This is common behaviour in fact, but one thing you can do is ensure that the food your cat gets at home is as healthy as possible. Hill's Prescription Diet may also help to reduce your cat's weight as well as control it.
You can check to see if your cat is overweight by giving their sides a gentle squeeze. You should be able to feel the rib cage, which is a sign your cat is at a healthy weight.
Because veterinary diets are formulated for the nutritional support of pets with specific clinical conditions, we recommend that you only use them under professional advice. For more information on feeding Hill's Prescription Diet Feline to your cat, please consult your veterinary surgeon.