Skip to content
Skip to navigation menu
Hill's Prescription Diet Feline j/d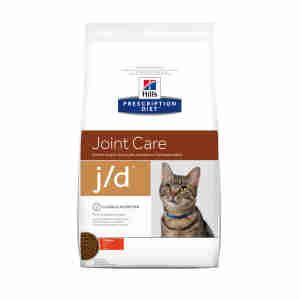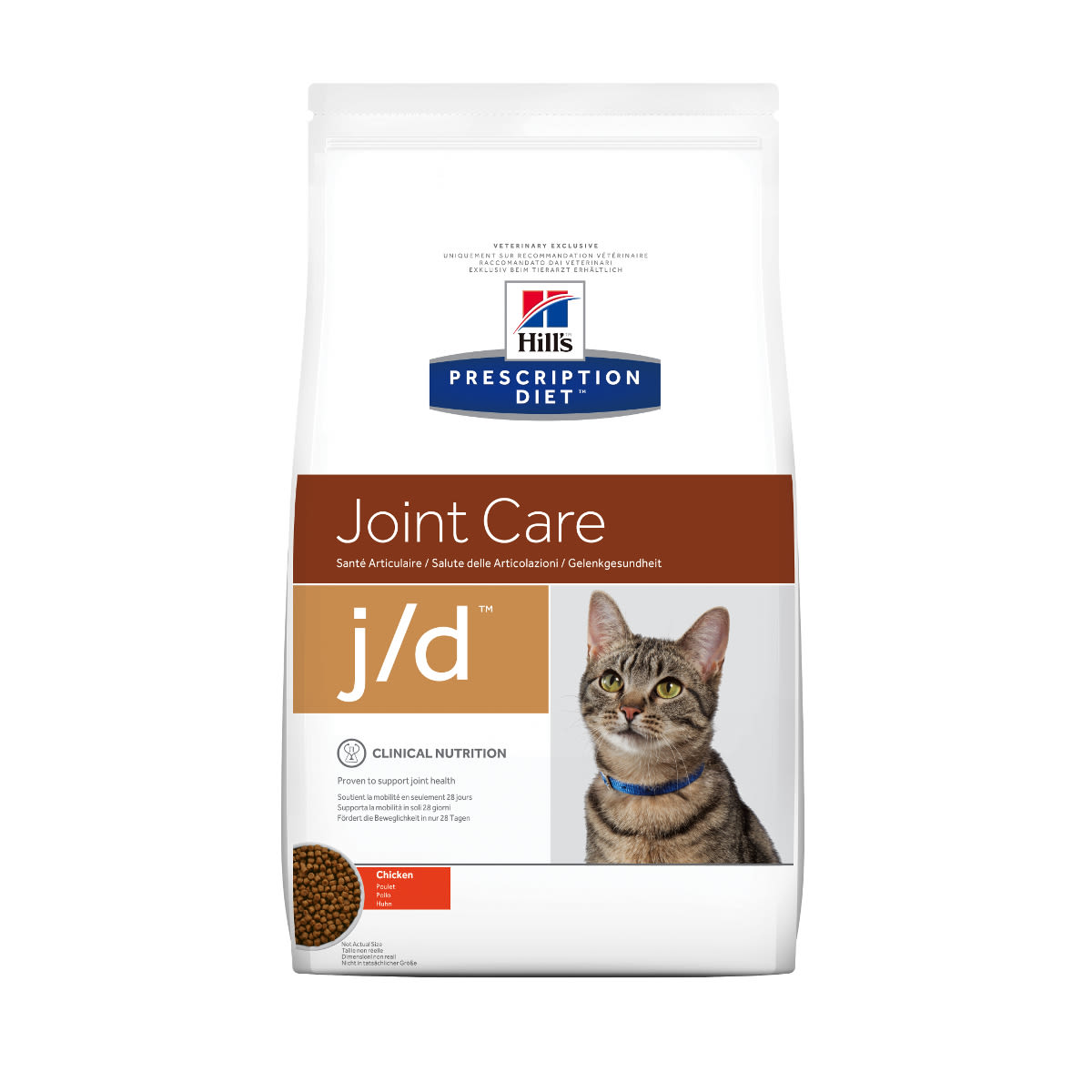 Rollover image to zoom
Product details
Hill's Prescription Diet Feline j/d is specially formulated to maintain joint health in cats.
How it works
The recipe features numerous ingredients that can soothe painful joints and help maintain healthy cartilage. The high level of omega-3 fatty acids eases joint pain and increases mobility, while docosahexanoic acid (also omega-3) helps to maintain the healthy cartilage around your cat's joints.
Other active ingredients are glucosamine and chondrotin, which both appear naturally in the body and are considered the 'building blocks' of cartilage. They can help your cat's body to create new cartilage, relieving the symptoms of joint pain.
As weight can be a key factor in joint pain, this recipe in low in calories. It also contains L-carnitine, which helps the body convert fat to energy, aiding your cat to maintain a healthy weight.
Key benefits
can improve mobility within thirty days
omega-3 fatty acids ease and soothe painful joints
high levels of docosahexanoic acid (an omega-3 fatty acid) helps maintain healthy cartilage
features glucosamine and chondrotin, the 'building blocks' of cartilage
high in L-carnitine: converts fat to energy to maintain healthy weight
low calorie to promote weight loss.
When to use it
As cats grow older they can develop joint problems. This is especially common in larger breeds such as the Maine Coon or in cats who are overweight. Cats can also develop joint pain at a younger age if they suffer from osteoarthritis.
Joint pain symptoms aren't as obvious in cats as they are in other pets such as dogs. Your cat may move stiffly, react uncomfortably while being handled, or become less flexible. Another symptom can be your cat moving less, jumping less and generally being less active. They may also stop using their litter box. These symptoms are quite general, and don't necessarily mean they're in pain; it could also mean that they're suffering from a fever or stress. This is why it's important to consult your vet as soon as you notice a change in their behaviour.
If your cat is diagnosed with arthritis you can make their life more comfortable by making sure they have a cosy bed well away from any draughts. You can also give them a very gentle massage when they're relaxed and groom any areas that they're having trouble reaching. Make sure their litter box, food and water bowls are easily accessible.
Because veterinary diets are formulated for the nutritional support of pets with specific clinical conditions, we recommend that you only use them under professional advice. For more information on feeding Hill's Prescription Diet Feline j/d to your cat, please consult your veterinary surgeon.
Customer reviews
Product reviews are filtered by language.
The following reviews are available in English.
My cats are eating it like it's sprinkled with catnip.

I mix j/d with Hills feline k/d as my cat's mum is a little achy and has some renal issues, they love it too, I can hardly keep up. Highly recommended, especially the mix although it is only supposed to be for their mum, little thieves...

Hills jd

The cat really likes these but turns her nose up at other brands which claim to be good for joint problems. They seem to help with her mobility.

Vet's recpmmendation

As recommended by our vet, we have been feeding our ageing cat this Hills Prescription Diet D/J for some years and she has continued to enjoy good health.

Great product

My cat has been in this food for some years and it has really helped her.

Hills prescription diet j/d

Our vet recommended using j/d. After a while on it we were able to take the cat off medication, he moved so much easier. Years later he has had to go back onto medication but the years medication free will have been good for his health.