Skip to content
Skip to navigation menu
Hill's Prescription Diet Feline c/d Urinary Stress Reduced Calorie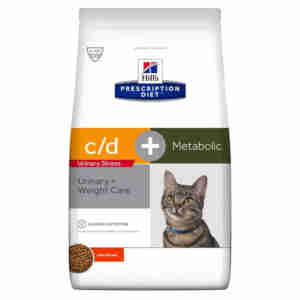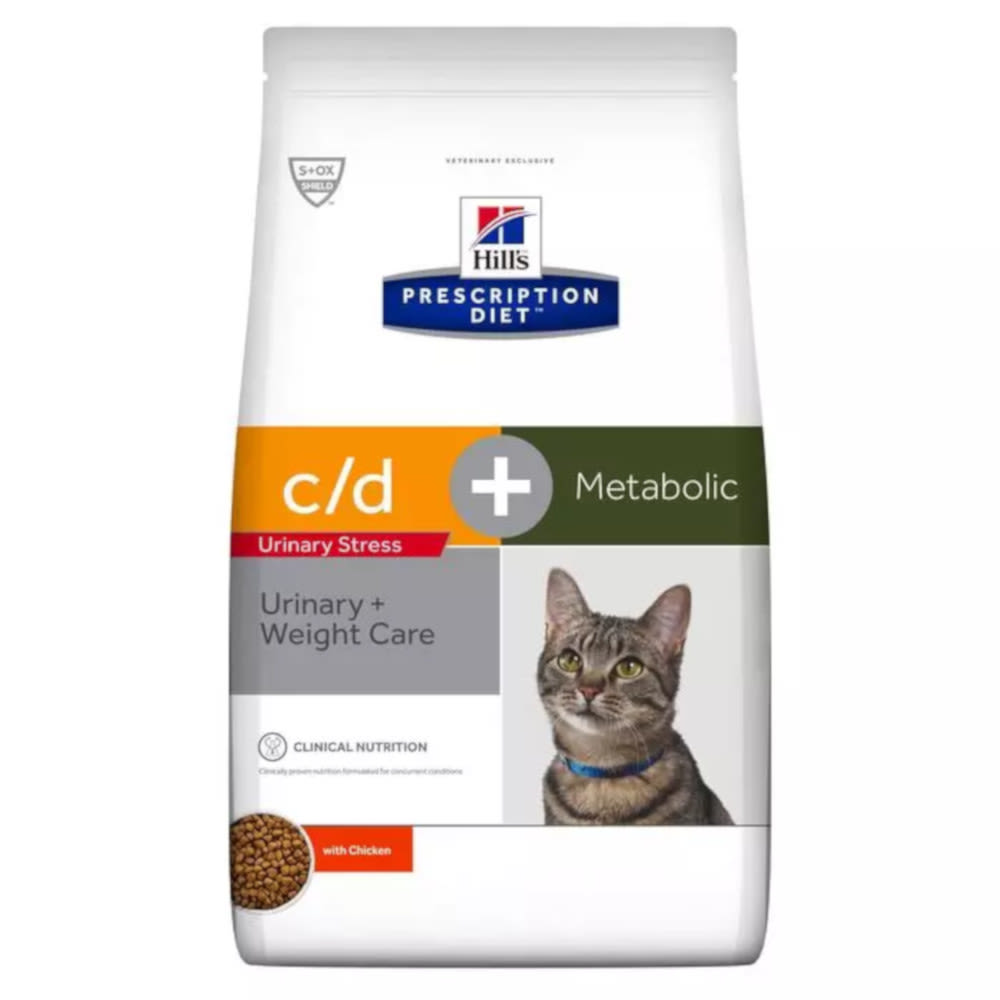 Rollover image to zoom
Hill's Prescription Diet Feline c/d Urinary Stress Reduced Calorie is a specially developed supplement designed to relieve the symptoms of Feline Lower Urinary Tract Disease (FLUTD) and prevent the problem from returning in the future.
How it works
Taken as a simple dietary supplement, Hill's Prescription Diet Feline c/d Urinary Stress Reduced Calorie decreases the concentration of the proteins that cause struvite crystals to form in your pet's urinary tract. It also increases the water concentration in your cat's urine, which further dilutes struvite constituents to relieve symptoms in as little as 14 days. It is specially designed to regulate your cat's urinary pH and discourage a recurrence of the problem.
Its controlled fat formula reduces your cat's overall calorie intake maintaining its health and weight throughout treatment, whilst high levels of L-carnitine and omega-3 fatty acids help to sustain muscle mass and reduce discomfort during your pet's recovery.
Key benefits
reduces concentration of proteins to prevent the formation of struvite crystals
regulates urinary pH to discourage the formation of struvite crystals
increases the volume of urine to dilute struvite constituents.
high levels of omega-3 fatty acids to help reduce discomfort
fast acting — it can dissolve struvite stones in as little as 14 days
reduced calorie formula is ideal for overweight cats.
formulated to taste great.
When to use it
Caused by the formation of crystals in your cat's urinary tract, FLUTD can cause your pet immense stress and pain. Symptoms range from passing blood in the urine to difficult or painful urination. Left untreated, FLUTD can become severe and cause your pet further infection and discomfort, so it is advised that you contact your vet as soon as symptoms occur.
Hill's Prescription Diet Feline c/d Reduced Calorie is a dietary replacement to be taken as your cats regular meal or as directed by your vet. After 14 days on the formula, your cat should experience reduced symptoms, which will indicate that their struvite crystals are dissolving.
Because veterinary diets are formulated for the nutritional support of pets with specific clinical conditions, we recommend that you only use them under professional advice. For more information on feeding Hill's Prescription Diet Feline c/d Urinary Stress Reduced Calorie to your cat, please consult your veterinary surgeon.
Warning:
Not recommended for Kittens, Pregnant or lactating queens, Cats concurrently receiving urinary acidifiers or Cats with non-struvite urolithiasis or crystalluria.
Customer reviews
Product reviews are filtered by language.
The following reviews are available in English.
Great product

My cat needs this as a prescribed diet. Pet supermarket are the best value, quick delivery and my cat is a happy boy! Great product.

Best Cat Food

this prescription Cat food is the best my cats have had. Since on this food my cats had a perfect bill of health every time they have had a check up at their vets. I get great service from this site and would recommend it to anyone. A Big Thank you for making my pets healthy and happy x

cat food

our cat loves medic animal diet food ,could'nt ask for better service ,great

Happy customer

Excellent product,service and speedy delivery as always

Hills prescription diet for our cat

This food is great for our cat ,he loves it and keeps him healthy thank you