Skip to content
Skip to navigation menu
Hill's Prescription Diet Canine t/d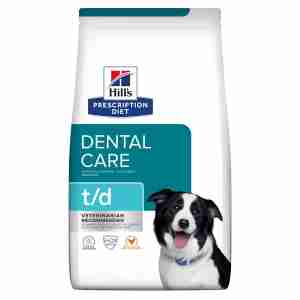 Rollover image to zoom
Hill's Prescription Diet Canine t/d is specially blended to support your dog's dental health while also delivering complete and balanced nutrition.
How it works
While this food also provides everything your dog needs for a healthy diet, it also helps maintain your pet's dental health. The unique kibble shape and size means that as your dog eats, the food works to clean their teeth and comb. The carefully selected ingredients include calcium, which is essential for the strength and health of your pet's teeth. The food is high in essential minerals, vitamins E and C, and proteins. This mix offers an above average level of nutrients as a result, meaning it supports your dog's overall health. It is also fortified with antioxidants to fight against free radicals, which can otherwise lead to further diseases, including of the kidney and the immune system. The taste is also something your dog is sure to enjoy, making it easy to add it into their feeding routine.
Key benefits
special kibble design cleans your dog's teeth as they eat
reduces and combats plaque build-up
high in nutrients essential for a healthy diet
promotes your dog's health
great taste that your dog will love
high in calcium for teeth and bone strength.
When to use it
Your dog's teeth and gums need as much care as ours do. If your dog's dental health is bad, they are likely to suffer from minor concerns such as bad breath, tartar, swollen gums and even pain. While these problems are reason enough to maintain your pet's dental health, there are also a number of more serious conditions that can develop. It is generally accepted that bad oral hygiene, especially the build of plaque and tartar, can start to affect your dog's organs as well. The kidneys, heart, and even metabolic systems can all suffer detrimental effects. Tartar and plaque are, after all, concentrations of bacteria, which increase health risks the longer they are allowed to build-up.
Because veterinary diets are formulated for the nutritional support of pets with specific clinical conditions, we recommend that you only use them under professional advice. For more information on feeding Hill's Prescription Diet Canine t/d to your dog, please consult your veterinary surgeon.
Click here to check your dog's body condition

Customer reviews
Product reviews are filtered by language.
The following reviews are available in English.
Happy Dog

Very happy with these biscuits and the dog loves them. Her teeth are remarkably clean for a 13 year old so I think the biscuits have made a difference. They also made a difference to the frequency with which she needed her anal glands to be evacuated - probably only half as often now.

TD Biscuits - Quality Items.

Helps with keeping the dogs teeth and gums plaque free. Good quality biscuits and value for money.

Good product. Great service

I have been using this product for several years, based on advice from my vet. I give my dog,11 years old now, a daily ration mixed in with his other feed. Until recently, I have bought the product from my vet, although it is however, expensive. Buying it from MedicAnimal online has saved me about 40% of the cost. The delivery service was excellent, being fast and efficient. From now on, I shall but the product solely in this way. First class.

TD - Quality Dog Biscuits

Good for my dogs teeth and gums - good value for money - delivery service excellent.

Seem to help our dogs' teeth

Have been using these biscuits for our three dogs for some time now following recommendation by our vet. They all enjoy them, and because of the size of the biscuits it does make them chew properly rather than just bolting down.