Skip to content
Skip to navigation menu
Hill's Prescription Diet Canine l/d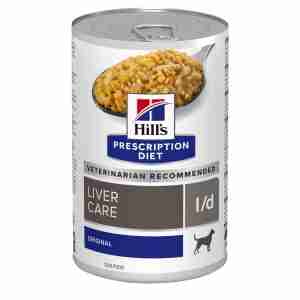 Rollover image to zoom
Hill's Prescription Diet Canine L/D is a complete food specially formulated to help dogs struggling with reduced liver function return to normal health.
How it works
In the event of a liver disorder, your dog can struggle to digest food and absorb nutrients. Hill's Prescription Diet Canine L/D is made with highly digestible proteins, carbohydrates, and fats to reduce the workload of the liver tissue allowing it to regenerate.
Hill's Prescription Diet Canine L/D is designed to supply essential nutrients that can be lost when a dog is suffering from liver disease. It has increased zinc and vitamin K, as well as potassium. These essential nutrients help to maintain your dog's growth and immune system while they recover from their illness.
Finally, a high level of amino acids L-carnitine and L-arginine helps to metabolise fat and increase circulation. This helps to counteract weight gain and increased fat build up in the liver. The food's reduced copper content helps to prevent the element from building up in the liver.
Key benefits
highly digestible proteins, carbohydrates and fats improve digestion and nutrient absorption
supplements several essential nutrients including zinc, vitamin K, and potassium
high levels of L-carnitine & L-arginine help to metabolise fat
reduced copper to prevent unhealthy build up in the liver.
When to use it
Ease your dog into Hill's Prescription Diet Canine L/D over a 7 day period, gradually substituting it for your dog's regular food.
Your dog's liver is it's largest internal organ. It is an essential to their health as it digests and converts nutrients, removes toxic substances from the blood, and stores vitamins and minerals. With all these essential functions to fulfil, liver failure can be serious, so it's essential to consult a vet if you suspect your dog of having liver failure. Fortunately, the liver is immensely capable of rebuilding and regenerating itself. Hill's Prescription Diet Canine L/D assists this process by reducing the workload of the liver.
Because veterinary diets are formulated for the nutritional support of pets with specific clinical conditions, we recommend that you only use them under professional advice. For more information on feeding Hill's Prescription Diet Canine L/D to your dog, please consult your veterinary surgeon.
Customer reviews
Product reviews are filtered by language.
The following reviews are available in English.
Good service

They provide a good service and very quick delivery

Would recommend

Always used Pet Supermarket and always receive an excellent service.

Top product

My Labrador was diagnosed with liver failure two years ago and has been on this food since and seems to be doing fine.

Our 15 year old staffs suffered a stroke last year and we were told he would last much longer as he had severe liver and kidney failure. We were advised by the vet to feed him this and a year on and he's still going strong. Anything else apart from this and he vomits but this stays down, he likes it and he's looking strong and healthy. Thank god for this food it's great!

My Yorkshire Terrier, the fussiest eater on the planet, was diagnosed with a liver shunt two months ago. When told I had to feed a special diet I was worried sick BUT she absolutely loves this canned food, and also has twenty pieces of the dried as little treats throughout the day.