Skip to content
Skip to navigation menu
You have setup the following Repeat Order: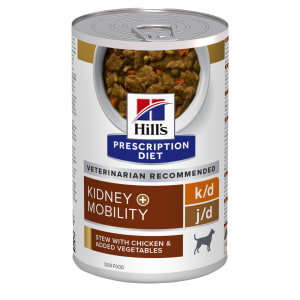 Hill's Prescription Diet Canine k/d and Mobility Chicken Stew
Hill's Prescription Diet Canine k/d and Mobility Chicken Stew
Product details
Chronic kidney disease (CKD) is a condition often associated with advanced age. According to recent data, 1 out of 10 dogs will develop CKD in their lifetime. It is also common for senior dogs to develop other age-related conditions such as reduced mobility or cognitive dysfunction which can significantly impact the quality of life of both the pet and the pet parent. Studies have also shown that 80% of dogs greater than 8 years of age suffer from osteoarthritis. Other data shows that 50% of dogs over 11 years of age display at least one sign of cognitive decline. Nutrition can play a key role in managing these age-related conditions. That is why Hill's nutritionists and veterinarians developed Prescription Diet k/d+Mobility for dogs. This clinical nutrition not only supports your dog's kidney function but also helps to improve their mobility and support cognitive alertness and vitality. In fact, the nutrition of k/d is clinically proven to improve & lengthen quality of life in dogs with CKD.This irresistible Prescription Diet Stew with chicken and added vegetables contains gently cooked bite-sized chunks.
Key features:
Supports kidney & heart function
Supports your dog's ability to run, climb and jump in as little as 21 days
Supports your dog's natural ability to build lean muscle daily
Supports vitality & alertness in older dogs.
Ingredients
Meat and animal derivatives, cereals, oils and fats, derivatives of vegetable origin, various sugars, seeds, vegetables, minerals, eggs and egg derivatives
Feeding Guide
Recommended quantity/day:
| Dog's weight | Cans (354g) |
| --- | --- |
| 2.5kg | 2/3 |
| 5kg | 1 |
| 10kg | 1 3/4 |
| 20kg | 3 |
| 30kg | 4 |
| 40kg | 5 |
| 50kg+ | 1 per 10kg |
Recommended quantity/day with dry food
| Dog's weight | Cans (354g) plus dry food (g) |
| --- | --- |
| 2.5kg | 1/2 + 10 |
| 5kg | 1/2 + 50 |
| 10kg | 1 + 70 |
| 20kg | 1 + 180 |
| 30kg | 2 + 185 |
| 40kg | 2 + 270 |
| 50kg+ | 2 + 7 per kg |