Skip to content
Skip to navigation menu
Hill's Prescription Diet Canine i/d GI Low Fat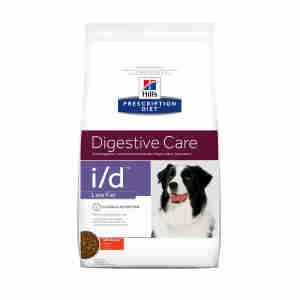 Rollover image to zoom
Product details
Hill's Prescription Diet Canine i/d GI Low Fat food is specially developed to reduce the effects of gastrointestinal problems and prevent them from coming back.
How it works
The food contains brewers rice, corn starch and wholegrain wheat, which are full of fibre to aid healthy digestion. It also uses ginger to aid digestion by helping muscles to relax and enabling food to move better through a sluggish stomach. Its prebiotic fibres encourage the growth of bacteria that is beneficial for your dog's gut and helps to stop gastrointestinal problems from recurring. Formulated to taste great and tempt even the fussiest eaters, Hill's Prescription Diet Canine i/d GI Low Fat food is clinically proven to help your dog recover from potentially painful digestive tract disorders.
Key benefits
easily absorbed nutrients to encourage improved digestion
encourages growth of beneficial bacteria
helps to lower and eliminate digestive tract inflammation
formulated to taste great.
When to use it
Gastrointestinal disorders are common in dogs of all ages. They can occur for a variety of reasons, such as a parasite or simply by eating food that's too rich, and can be tricky to resolve. Symptoms can start with vomiting and diarrhoea and quickly progress to bloating of the abdominal region and a loss of appetite. Your vet will be able to diagnose the problem and advise on the best course of action, so it's important to make an appointment as soon as you notice a problem.
A change of diet can have a marked and rapid effect on your dog's health and general wellbeing. Hill's Prescription Diet Canine i/d GI Low Fat is designed to quickly get your dog back to full health, and keep them that way. With your vet's guidance, use it as part of an ongoing health-supporting plan to keep your dog in the best possible condition.
Because veterinary diets are formulated for the nutritional support of pets with specific clinical conditions, we recommend that you only use them under professional advice. For more information on feeding Hill's Prescription Diet Canine i/d GI Low Fat to your dog, please consult your veterinary surgeon.
Click here to check your dog's body condition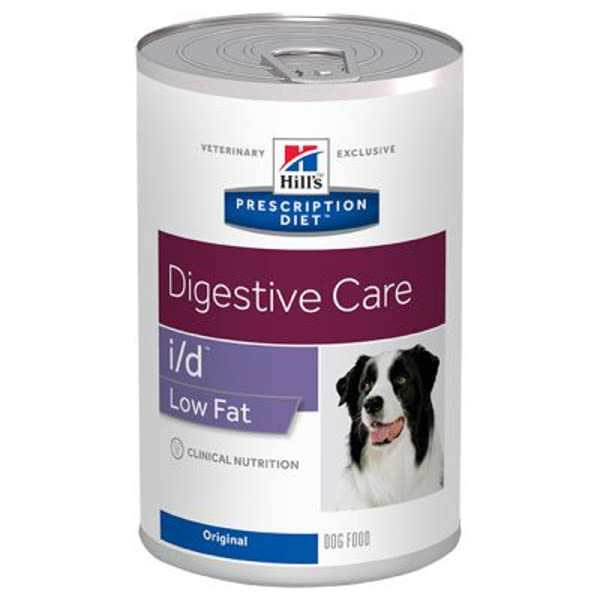 Ingredients
Dry food
Composition:
Brewers' rice, maize starch, wheat, maize gluten meal, chicken (18%) and turkey meat meal, digest, flaxseed, dried beet pulp, minerals, barley, oats, animal fat, ginger root powder, soybean oil, vitamins, L-carnitine, trace elements, taurine and beta-carotene. With a natural antioxidant (mixed tocopherols).
Analytical constituents:
Fat 7.8%, fibre (crude) 1.6%, moisture 8.5%, protein 23.2%.
Nutritional additives (per kg):
Vitamin A 8232 IU, vitamin C 90 mg, vitamin D 802 IU, vitamin E 550 mg, beta-Carotene 1.5 mg, carbohydrate 53.5%, calcium 0.74%, ginger 10000 mg, L- Carnitine 326 mg, magnesium 0.09%, Omega 3- fatty acids 0.8%, Omega 6- fatty acids 2.03%, phosphorus 0.58%, potassium 0.87%, sodium 0.32%, taurine 925 mg.
Wet food
Composition:
Pork, turkey, rice, rice flour, maize, minerals, egg protein, flaxseed, dried beet pulp, cellulose, digest, dried whole egg, soybean oil, ginger root powder, vitamins and trace elements.
Analytical constituents:
Fat 2.1%, fibre (crude) 0.7%, moisture 74%, protein 6.4%.
Nutritional additives (per kg):
Vitamin A 28866.4 IU, vitamin C 34.7 mg, vitamin D 562.07 IU, vitamin E 188.16 mg, beta-Carotene 1.08 mg, carbohydrate 15.3%, calcium 0.2%, ginger 2500 mg, L- Carnitine 103 mg, magnesium 0.02%, Omega 3- fatty acids 0.17%, Omega 6- fatty acids 0.66%, phosphorus 0.14%, potassium 0.23%, sodium 0.11%, taurine 352 mg.
Feeding Guide
Recommended quantity/day:
| Dog`s Weight (kg) | Dry food grams | Cans 360 g |
| --- | --- | --- |
| 2.5 | 55 - 75 | 1/2 - 3/4 |
| 5 | 95 - 130 | 1 - 1 1/4 |
| 10 | 160 -220 | 1 1/2 - 2 1/4 |
| 20 | 265 - 365 | 2 2/3 - 3 2/3 |
| 30 | 360 - 495 | 3 1/2 - 5 |
| 40 | 445 - 615 | 4 1/2 - 6 |
| 50 | 530 - 730 | 5 1/4 - 7 1/4 |
| 60+ | 11 per kg | 1 per kg |
Always make sure that your dog has access to plenty of water.
Customer reviews
Product reviews are filtered by language.
The following reviews are available in English.
Excellent product have recommended it to many friends and neighbours.

This is an excellent product our dogs have never enjoyed better health. This product was first recommended by our vet and we would not go back to any other product.

Good value and product

Our weimaraner was diagnosed with Pancreatitis at 6 months, our vet prescribed Hills low fat ID to aid his digestion and help with his condition. We have been using this product now for a few years with good results. we can control his Pancreatitis with diet alone. Very pleased.

Excellent product

My dog suffered from IBD for many years. Since being on i/d the symptoms stopped & Parker is very happy.

Hills perscription diet

The product does what it says . I do feel you have to review your delivery as it did not meet expectations. We paid for the notification delivery by text and email which is usual well worth the extra.There was none and it just turned up fortunately someone was in.

My dogs zest for life has returned!!

I have bought from this Company for several years now, buying the Diet Canine i/d on my Vet's recommendation for an ongoing bowel problem. (The dog version of IBS)) She was very much improved on the food, but a little while ago, by mistake I ordered this GI Low Fat Canine i/d. instead. I read about it and decided to give it a try. The difference is amazing.Where as before she would get recurrences of her problem, not on this food. She is now, at the age of nine just like her lively playful self again. I highly recommend it for bowel problems in dogs. And price wise I don't think you'll find better than here. Service wise, definitely not!!