Skip to content
Skip to navigation menu
Hill's Prescription Diet Canine d/d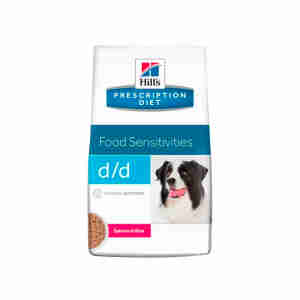 Rollover image to zoom
Hill's Prescription Diet Canine d/d has been formulated to support dogs suffering from skin issues or vomiting and diarrhoea caused by allergies.
How it works
This food is specially designed without many of the common ingredients in dog foods known to cause allergic reactions, such as gluten and soy, which make it suitable for a food exclusion diet.
A high concentration of natural omega-3 fatty acids helps support healthy skin and soothe inflammation, encouraging the healing process and helping your pet feel more comfortable. These also help the skin act as a natural barrier, giving added protection against potential allergens.
To support your pet's immune system, the food contains plenty of antioxidants to neutralise harmful free radicals. As a complete food, it provides all the nutrients your pet needs to stay healthy, making it suitable for feeding on a long term or permanent basis.
Hill's Prescription Diet Canine d/d also comes in a choice of flavours making it easy to find something to tempt even the fussiest eaters.
Key benefits
formulated to be free from common allergens in dog food
high levels of omega-3 supports healthy skin and soothes inflammation
helps skin act perform its function as a natural barrier
antioxidants work to neutralise harmful free radicals
choice of flavours lets you find the best ingredient combination for your pet.
When to use it
Vomiting and diarrhoea are probably the symptoms most associated with food allergies, but skin problems caused by allergens are also very common in dogs. Potential signs to be aware of are itching and hair loss, as well as red dots or scabs appearing on the skin.
Since a food allergy is only one possible cause of these symptoms, it's important to take your pet to the vet for an examination and diagnosis. Other possible causes of skin issues could be parasites such as fleas or mites, a bacterial or fungal infection or an allergy to dust or pollen. Depending on the cause of your pet's symptoms, your vet might prescribe medication or food supplements alongside a change of diet.
Because veterinary diets are formulated for the nutritional support of pets with specific clinical conditions, we recommend that you only use them under professional advice. For more information on feeding Hill's Prescription Diet Canine d/d to your dog, please consult your veterinary surgeon.
Customer reviews
Product reviews are filtered by language.
The following reviews are available in English.
Excellent

This is the only food my dog can eat that doesn't upset her stomach or cause her skin problem to flare up. She can only tolerate the venison tinned meat. Always delivered promptly.

Excellent food

My dog has pancreatitis and this has proved to be the only food she can have without any problems. And she really enjoys it.

High Quality Food and Service

My cocker spaniels colitis has improved since being on Hill's and she is back to her usual bouncy disobedient self. Although it is an expensive food I hope that it will avoid constant visits to the vet and their charges. There was a problem with delivery but as soon as Pet Supermarket were aware of it it was put right .

Excellent customer service

This product is excellent for my dog & keeps her stomach settled. Delivery was very quick. Had a problem with the food delivered which was resolved very efficiently by the customer service team who arranged for my delivery to be picked up & replacement product send out next day. Will definately use again.

Quality product

My dog has been on this particular brand since late summer 2016. His health definitely seems to have improved and his poops are now less smelly and smaller - something the vet told me is a good sign indicating the diet is being absorbed.