Skip to content
Skip to navigation menu
Hill's Prescription Diet Canine c/d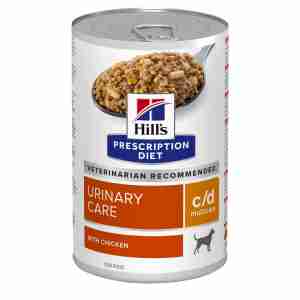 Rollover image to zoom
Hill's Prescription Diet Canine c/d is designed to break up existing formations of bladder stones, while also minimising the risk of your dog developing them in the future.
How it works
Containing a balanced range of nutrients and high-quality proteins, this food has everything your dog needs for a healthy diet. Additionally, magnesium, phosphorous and calcium levels are all below 0.1% of the food composition. These minerals are the main culprits when it comes to bladder stone formation. The food can therefore help relieve your dog's existing problems, and protect against any further stone formation.
Hill's Prescription Diet Canine is available as dry or canned food, meaning you can cater to your dog's individual tastes and fit it into their feeding routine. Antioxidants and omega-3 fatty acids are also included in the formula. These help keep the levels of free radicals low, which can otherwise potentially lead to serious illnesses by changing the chemical structure of the living cells in your dog's body. The fatty acids promote healthy joints and bones.
Key benefits
contains a balance of high quality proteins and nutrients
available as dry or canned food to suit your dog's taste
low sodium and fat
reduced levels of minerals that can cause bladder stones
can help to dissolve bladder stones
reduces risk of bladder stones developing.
When to use it
Struvite stones can form in the bladder or kidneys of your dog, and any age, sex or breed is equally at risk. These stones are formed as minerals present in your dog's diet – specifically magnesium, calcium, and phosphorous – crystalize in the bladder or kidneys over time. If left untreated, these stones could cause serious problems, such as preventing your dog urinating. They can also be a sign of infection.
Symptoms can include visible difficulty going to the toilet – perhaps your dog is straining for longer than usual while walking in the park for example. They may also become more lethargic than normal. Bladder stones can also cause your dog to pass blood when urinating, and they may also start to suffer from lower back pain.
Because veterinary diets are formulated for the nutritional support of pets with specific clinical conditions, we recommend that you only use them under professional advice. For more information on feeding Hill's Prescription Diet Canine to your dog, please consult your veterinary surgeon.
Click here to check your dog's body condition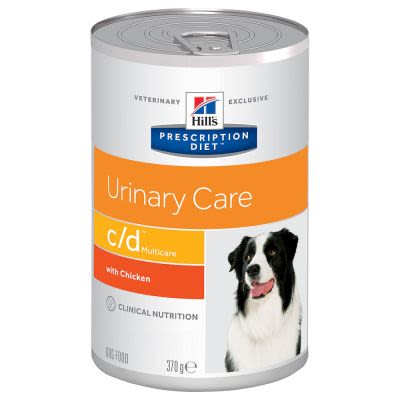 Customer reviews
Product reviews are filtered by language.
The following reviews are available in English.
Cured my pug/cross and she loves it

After spending a fortune on vets bills trying different products and having many urine samples tested, my vet suggested this and it worked. My dog has been using this for around 2 years and so far she's never had crystals again. I used to buy this from my vet but found this store online and I buy it here now. Great prices and service.

Supporting treatment for Pug

Food for our Pug who suffers from recurring Bladder Stones. So far so good.

Excellent service

Easy to order, helpful friendly staff, prompt delivery and cheaper than the vets

Vet prescribed we fed our Pug on this.

Our 6yr old Pug suffers from Struvite Crystal Stones. She has had to have them removed twic. We cannot risk her having such a Major op again so she has to have his diet. She seems to be tolerating it Ok so far so we are hoping that this works for her.

Hills Prescription c/d canine

my old eg ..15 year old dog was diagnosed with bladder stones after having her x.ray,so the vet put her on this food ..she cant have anything else to eat. she seems to be ok with it and is a lot better,,in herself,,..she also likes the dried food .. the delivery is excellent as well,,