Skip to content
Skip to navigation menu
Hill's Prescription Diet Canine/Feline a/d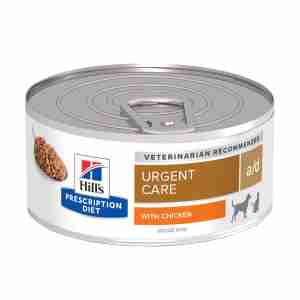 Rollover image to zoom
Product details
Hill's Prescription Diet Canine/Feline a/d offers nutritional support to pets recovering from accidents, surgery and serious illness.
How it works
Your pet has extra nutritional needs when they're recovering from a traumatic event such as surgery, accident, or illness. Their body needs extra nutrients and a lot of energy to heal and rebuild the immune system. This food has been developed to address those added needs, along with an appealing taste and soft texture to encourage them to eat. The soft texture is great for syringe-, spoon- or hand-feeding for animals who can't quite make it to their bowl.
The food has a high calorie and fat content to give pets all the energy they need to recover. The high level of protein helps to preserve the body's lean muscle mass, promotes faster wound healing, and also gives the immune system an added boost. Added potassium helps avoid blood potassium levels dropping, which can lead to muscle cramps and pain. Extra omega-3 fatty acids can reduce inflammation and ease pain. All of the ingredients are highly digestible, putting less strain on the pet's gastrointestinal system and ensuring they get every drop of nutrition out of every meal.
Key benefits
suitable for cats and dogs
increased protein levels promote wound healing
increased levels of potassium
easy to digest: puts less strain on system
high calorie for added energy to boost recovery
increased level of omega-3 fatty acids reduces pain and inflammation
soft consistency: suitable for syringe feeding
extra tasty to combat appetite loss
nutritionally complete: can be only food source.
When to use it
This food should be used to help your pet get the nutrients they need while they recover. Feeding schedules differ depending on your animal's need, such as whether they've been prescribed cage rest, are suffering from an injury such as head trauma or a burn, or if they're recovering from surgery, blood poisoning, cancer or fever. The amount you feed them will also depend on their weight. This food isn't suitable for animals whose recovery means they need to avoid fluid retention or high levels of phosphorus or sodium. It's also not recommended for pets who are intolerant of fatty foods, such as animals with or at risk of pancreatitis.
Because veterinary diets are formulated for the nutritional support of pets with specific clinical conditions, we recommend that you only use them under professional advice. For more information on feeding Hill's Prescription Diet Canine/Feline a/d to your dog or cat, please consult your veterinary surgeon.
Ingredients
Composition:
Water, turkey liver, pork liver, chicken, turkey Heart, corn Ffour, pork protein isolate, fish oil, calcium carbonate, chicken liver flavour, egg flavour.
Analytical constituents:
Protein 10.3%, fat 7.8%, crude ash 2.2%, moisture 76.5%.
Nutritiuonal additives (per kg):
Vitamin A 33630 IU, vitamin D 400 IU, vitamin E 285 mg, arginine 0.64%, branched-chain amino acids 1.54%, calcium 0.28%, carbohydrate 3.1%, copper 5.7 mg, folic acids 0.94 mg, glutamine/glutamate 1.33%, iron 65.7 mg, magnesium 0.02%, niacin 29 mg, Omega 3 fatty acids 0.57%, Omega 6 fatty acids 1.58%, pantothenate 12.6 mg, phosphorus 0.27%, potassium 0.27%, riboflavin 4.9 mg, sodium 0.2%, taurine 0.15%, thiamin 10 mg
Feeding Guide
Recommended quantity/day:
| Body Weight (kg) | Cans 156g |
| --- | --- |
| 2.5 | 3/4 |
| 5 | 1 1/3 |
| 10 | 2 1/4 |
| 20 | 3 3/4 |
| 30 | 5 |
| 40 | 6 1/4 |
| 50+ | 1 1/2 per 10 kg |
Always make sure that your pet has access to plenty of water.
Customer reviews
Product reviews are filtered by language.
The following reviews are available in English.
Brilliant

Best thing since sliced bread -

Excellent product

This was recommended by my vet - it's what they use to build cats up when they are convalescing. My cats love it as it has a strong smell and is full of flavour. I can even sneak some of the ProDen teeth cleaner in it (which they won't eat any other way. I also add a bit of water to it, which helps hydrate them.

Happy cat, happy owner

recommended by my vet and has kept my little cat healthy and happy post toxoplasmosis for the last three years. She is now 19!! She won't eat anything else.

Hills a/d

I have a cat who has stomach issues and this is the only food she can eat , thankfully she is happy and healthy eating this. Not having to go the vet for it every time helps a lot .

Why?

When she would not eat anything the vet suggested this, and she ate it. If she could talk and tell me why, I'd know why. Now she's back on her usual food but I always have a few tins of this in the cupboard.