Skip to content
Skip to navigation menu
Harrisons Wild Bird Food Premier Wild Bird Mix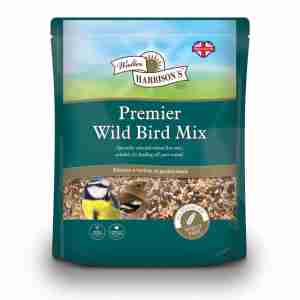 Rollover image to zoom
Product details
Attracting wild birds to your garden is a wonderfully rewarding way of helping your local wildlife to thrive. Harrison's Premier Wild Bird Mix is an expertly prepared blend of tasty seeds which will bring a beautiful variety of birds flocking to your lawn, feeder or table.
Key Features
Wide selection of tasty seeds to attract a variety of birds

Wheat free to discourage pigeons and doves for minimal mess

Safe for parent birds to feed their young

Suitable for ground or table feeding

Ideal for all seasons
Once you set up a feeding regime, it's important to stick to it because your new friends will rely on you for their breakfast. The RSPB* recommends that wild birds are fed all year round, (with extra in late autumn and winter when their natural resources are in shorter supply) and Harrison's Wild Bird Mix is perfect for keeping them well-nourished in all seasons. Choose your feeding point carefully, making sure that your little visitors have a good vantage point for potential predators as they eat. All that's left is to sit back and enjoy your homemade nature reserve.


Ingredients
Cut Maize, Sunflower Hearts, Red Millet, Yellow Millet, Red Dari, Peanut Granules, Black Sunflower Seed, Pinhead Oatmeal, Canary Seed, Linseed, Buckwheat, Safflorseed, Split Peas, Niger Seed, Hemp.
Customer reviews
Product reviews are filtered by language.
The following reviews are available in English.
Good value

While more expensive than other wild bird food, the birds eat all of this and don't leave half of it in a pile under the feeder. Good value and less mess. Very competitive price from Pet Supermarket.

Used for about a year & no complaints

As good as any I have tried for waste (lack of) and popularity. Can't avoid some spillage for the pigeons but that is probably the fault of the hanging feeder design rather than deliberate by the sparrows & tits. Even the squirrel likes it. Ground feeders eat the lot as well & I have not had lots of sprouting vegetation this summer

Happy birds, large and small

Seems a popular choice with small garden birds and some larger visitors (crows, rooks and a woodpecker or two) who balance comically on bird feeders 3 sizes too small for them. Little waste (aka not much wheat) and that small amount keeps very fat pigeons in business down below. Seems to attract a range of ground feeders if spread on the grass. Fairly good value, too, if you go for the larger (20kg) size.

The birds which visit me just love this food. Not a scrap left over at the end of the day. Have seen a larger variety of birds since feeding this seed. Am placing another order today.