Skip to content
Skip to navigation menu
"Best of its kind"
Halti Optifit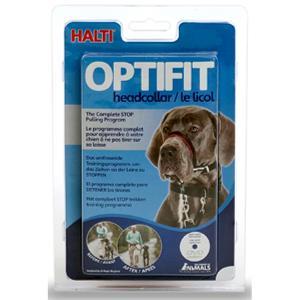 Product details
The HALTI OptiFit is a complete training program designed byDr Roger Mugford which guarantees to stop your dog pulling. Specially designedto provide an ergonomic and comfortable fit, the adjustable chin-strap, withsecure camlock, allows a customised fitting for every dog.
The uniquely styled cheek straps which follow the contoursof a dogs face, stop the HALTI OptiFit rising into the dogs eyes or slidingdown to his lips (flews). Additionalpadding on the noseband, ensures extra comfort and reflective webbing on theside strips help provide additional visibility.
Key Benefits:
Training DVD & written guide included
Designed to provide an ergonomic and comfortable fit
Additional padding on the noseband for extra comfort
Reflective webbing on the side strips help provide additional visibility
Designed to fit most dogs from short nosed Boxers to long nosed Borzoi's
The HALTI OptiFit provides maximum comfort and optimum fitno matter what the shape or size.
The pack includes a HALTI OptiFit Headcollar, acomprehensive Training DVD, Written Guide and a HALTI safety link whichconnects to the dogs' collar for extra security.