Skip to content
Skip to navigation menu
Halti Headcollar Padded Black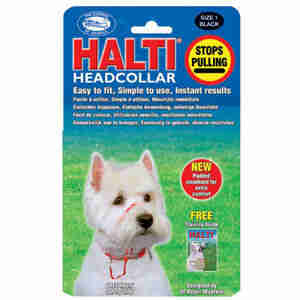 Halti Padded Black stops your dog from pulling uncontrollably. The halti collar works on the same principle as a horse's head collar, guide the head and the body will surely follow. Kind control, stops pulling, calms boisterous behaviour, simplifies training, corrects misbehaviours, allows freedom to pant and yawn, on-off action to close biters jaws. Includes 20 page training guide.

Size Guide
Size 0 - miniature dachshund, papillon, toy poodle, yorkie, and similarly sized dogs.
Size 1 - border terrier, jack russell, cairn terrier, welsh corgi, standard dachshund, sheltie, westie, whippet, and similarly sized dogs.
Size 2 - beagle, border collie, cockers, saluki, schnauzer, standard poodle, basenji, Welsh terrier, and similarly sized breeds.
Size 3 - Afghan, airedale, boxer, briard, chow chow, dalmatian, doberman, greyhound, German shepherd, husky, Labrador, pointers, retrievers, setters, springers, Weimaraner, and similarly sized dogs.
Size 4 - mastiff, clumber spaniel, giant schnauzer, Great Dane, Newfoundland, ridgeback, rottweiler, and similarly sized dogs.
Size 5 - bloodhound, large danes, mastiffs, St. Bernard, and similarly sized dogs.
Customer reviews
Product reviews are filtered by language.
The following reviews are available in English.
Halti padded head collar

It is brilliant stopped pulling immediately

Excellent if your dog has a reasonably long face like a labrador etc, as it is simply to use, kind to the dog and allows panting etc. However, my dog would simply flick it off her nose - i spent most of my time putting it back on before giving up entirely.