Skip to content
Skip to navigation menu
Add to an existing Repeat Order
Add to an existing Repeat Order
Licensed item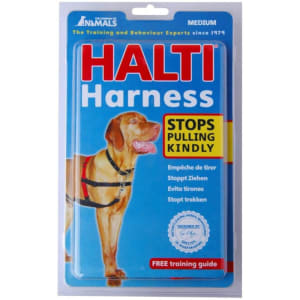 This is a licensed item so for regulatory reasons and to ensure we are providing the best product for the health of your pet, we need to ask you to confirm a few details.
Please confirm the type of animal you will be giving this licensed product to:
I am aware of the relevant safety precautions relating to the licensed products.
I will read the packaging and product literature before using any licensed products, and will use all licensed products according to the manufacturer's datasheet
I am not buying for resale and I am happy to be contacted if required
I confirm that the animal the licensed products will be given to is in general good health
I confirm that the animal the licensed products will be given to is NOT pregnant or lactating
Add to an existing Repeat Order
Licensed item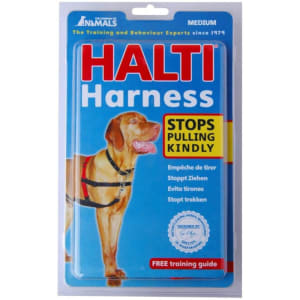 This is a licensed item so for regulatory reasons and to ensure we are providing the best product for the health of your pet, please read and confirm the details below:
By purchasing this product, you confirm your pet has been examined by a vet who has recommended the use of this food on the basis of examination and diagnosis.
You understand it is recommended while your pet is being fed this product, you seek veterinary advice at least every 12 months regarding the usage of this food and the on-going care of your pet.
Should your pet's condition deteriorate in any way while using this product, seek immediate veterinary advice.
Add to an existing Repeat Order
You are adding: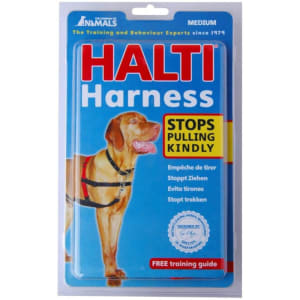 To the following repeat order:
Next order due on:


Delivered every
ending
Add to an existing Repeat Order
Thank you, we have updated your order. Your order is due on
You're setting up the following repeat order: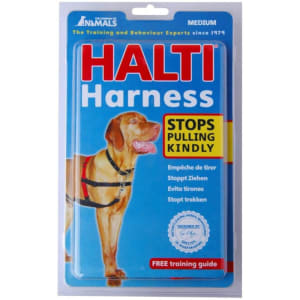 Product details
The Halti Harness
The Halti Harness is a new concept to the world of dogs where you take control with little effort or need for skill. Designed by Dr Roger Mugford, the Halti Harness stops pulling, calms over-boisterous dogs and simplifies training and behavioural therapy. It steers from the chest: an effective point of control.
The benefit of a properly used Halti Harness is that it gives total control over the dogs shoulders and thus sets the direction in which he can move. Best used in conjunction with the double ended Halti Training Lead, linked to both the chest and shoulder rings of the harness.
The new, patented HaltiHarness is available in three sizes:
Small: Belgian Shepherd, Bichon Frisé, Border Terrier, Boston Terrier,Buhund, Cairn Terrier, Cavalier Spaniel, Corgi, Dachshund Miniature ,Fox Terrier, Jack Russell, King Charles Spaniel ,Lakeland Terrier, Lhasa Apso, Maltese Terrier, Norfolk/Norwich Terrier,Papillon,Pekingese,Poodle Miniature,Poodle Toy,Pug,Schnauzer Miniature,Scottish Terrier,Sheltie,Shiba Inu,Shih Tzu,Welsh Terrier,West Highland White,Whippet,Yorkshire Terrier.
Medium: Afghan Hound, Airedale, American Cocker, American Staffordshire, Australian Cattle Dog, Australian Shepherd, Basenji, Basset Hound, Beagle, Bearded Collie, Bedlington Terrier, Belgian Shepherd, Border Collie, Boxer, Briard, Brittany Spaniel, Bull Terrier, Bulldog, Chow Chow, Cocker (English), Dalmatian, Dobermann, Elkhound, English Setter, Flat Coated Retriever, Foxhound, German Shepherd, Golden Retriever, Greyhound, Hungarian Vizsla, Irish Setter, Irish Water Spaniel, Keeshond, Kerry Blue Terrier, Labrador Retriever, Lurcher, Munsterlander, Pharaoh Hound, Pit Bull, Pointers, Poodle Standard, Rough Collie, Saluki, Samoyed, Schnauzer, Shar Pei, Shiba Inu, Siberian Husky, Soft Coated Wheaten, Springer Spaniel, Staff Bull Terrier, Weimaraner.
Large: Alaskan Malamute, Bernese MD, Borzoi, Bouvier, Bull Mastiff, Chesapeake Bay Retriever, Gordon Setter, Great Dane, Irish Wolfhound, Japanese Akita, Maremma Sheepdog, Mastiff, Newfoundland, Old English Sheepdog, Pyrenean MD, Ridgeback, Rottweiler, Schnauzer Giant, St Bernard.
Size Guide
| | | |
| --- | --- | --- |
| Size | Chest | Example |
| Small | 30-60cm | Jack Russell/Corgi/Terrier |
| Medium | 60-80cm | Labrador / Border Collie |
| Large | 80cm+ | G.Dane / Mastiff / Rottweiller |
Customer reviews
Product reviews are filtered by language.
The following reviews are available in English.
does what it says on the box!

Working well. Dog seems to realise when halti is on he has to behave. It will take time though. Would recommend this product.

Excellent

Really good.stops my boy pulling

I bought a small size for my 3 year jack Russell terrier. it is a very useful product for dogs that pull during the walk and I would definitely recommend it!

I wish I had been told about this product years ago. Bought it a week ago and the difference is fantastic. It won't stop pulling completely as the dog has the length of your lead to still pull but once that is reached the harness then twists the dog's body towards you hence the pulling stops. I thin

I already have a harness, so i wanted to try a new harness what a great product this is, it was great me taking the dog for walk instead the other way round. I used the harness with the training lead. I would strongly recommend this product as it worked for me and my golden shepherd