Skip to content
Skip to navigation menu
Greenies Dental Dog Chews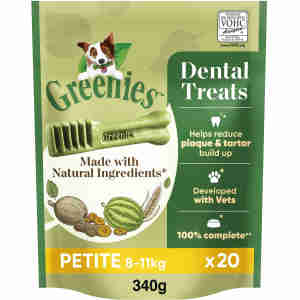 Rollover image to zoom
Give your dog a daily treat with Greenies dental dog chews and help them have cleaner, healthier teeth at the same time.

How it works
Dogs love to get a treat; it reinforces that they've been good. But a tasty snack doesn't just encourage good behaviour; it can also help to keep their teeth in great condition too. The formula of Greenies dental dog chews is clinically proven to clean your pooch's teeth as they chew, helping to control the build-up of tartar and freshen their breath every day.
These dental chews are made from delicious natural ingredients for a tasty flavour. They're available in a variety of sizes to suit every breed of adult dog from chihuahuas to Newfoundlands. Teenie is suitable for pets weighing 2-7 kilograms, like chihuahuas; Petite for pooches between 8-11 kilograms, including beagles and bichon frises; Regular for dogs of 11-22 kilograms, such as cairn terriers; and Large for bigger breeds weighing 23-45 kilograms, like alsatians.

Key benefits
clinically proven to clean teeth and freshen breath
natural vitamins and minerals improve overall health
irresistible flavour
unique shape and texture control plaque and tartar
easily digestible fibres.
When to use it
Greenies dental dog chews are a simple way to help keep your pooch's teeth and gums in great condition. The unique shape and texture strengthens their jaw as they eat and cleans their teeth and gums by helping remove tartar and plaque.
When training your dog, it's helpful to offer treats in order to reinforce the new skills they're learning. As well as tasting delicious, Greenies chews are full of natural ingredients, vitamins and minerals that can contribute to improving their overall health.
Analytical constituents (%): Protein 30%, Fat content 5.3%, Inorganic matter 5.4%, Crude fibres 6.0%, Energy 307Kcal/100g. Composition: Cereals, Derivatives of vegetable origin, Vegetable protein extracts, Meat and animal derivatives, Fruit, Minerals, Seeds, Oils and fats, Yeasts.
Additives per KG: Nutritional Additives: Vitamin A (7150 IU/kg), Vitamin D3 (1780 IU/kg), Cupric Chelate of amino acids hydrate (80mg/kg), Ferrous Chelate of amino acids hydrate (261mg/kg), Manganese Chelate of amino acids hydrate (50mg/kg), Potassium Iodide (3.1mg/kg), Zinc Chelate of amino acids hydrate (1040mg/kg).
As with any edible product, monitor your dog to ensure the treat is adequately chewed. Gulping any item can be harmful or even fatal to a dog.

We recommend dental inspection by your vet every six months together with an effective oral care routine, to help keep your dog's mouth healthy.

TEENIE – for dogs between 2-7kg, PETITE – for dogs between 8-11kg, REGULAR – for dogs between 11-22kg and LARGE – for dogs between 23-45kg.

Greenies are not suitable for dogs less than 2kg in weight or under 6 months of age.

Always ensure that clean fresh drinking water is always available.
Customer reviews
We're sorry but there are no reviews of this product in English.