Skip to content
Skip to navigation menu
Golden Grey Cat Litter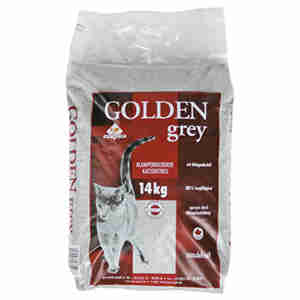 Rollover image to zoom
Keep the litter tray clean and odour-free with Golden Grey cat litter.
How it works
Golden Grey cat litter is made from 100% natural ingredients for a product that's completely harmless to your pet. It's low in dust to prevent coughing and sneezing, and is specially designed to reduce mess when your cat uses it. This litter won't get stuck to paws either, keeping your floors and carpets clean. It has an ultra-absorbent rate of 380% that traps moisture and clumps the litter, making it easy for you to lift out and clean up. A gentle baby powder scent masks strong odours, keeping your home smelling clean and fresh.
Key benefits
clumping litter
fine bentonite granules
superior odour control
380% absorbency
low in dust to protect your cat's lungs
When to use it
Cats are extremely clean creatures and need their privacy when they go to the toilet. Your pet might not use their litter tray if it's dirty or in an open space, so make sure it's always topped up and fresh after mealtimes, and is positioned out of the way. Golden Grey cat litter is highly absorbent, making it the ideal solution for households with multiple cats and indoor pets that use a litter tray often. It masks and controls odours by trapping them inside the granules. To use, scoop this litter into a tray and fill it up to around two inches.
As this cat litter clumps, you won't have to throw away a whole tray's worth every time your cat goes to the toilet. Instead simply, remove and dispose of the clumps and top up with a fresh scoop of litter.
Customer reviews
Product reviews are filtered by language.
The following reviews are available in English.
Golden Grey Cat Litter

Best cat litter I've found for a long time. Less mess from the cat's paws than all the other products, as it just seems to cling to their paws with the other kind. Definitely recommend it.

Golden Grey Cat Litter

This litter is excellent - very cat friendly

Excellent cat litter!

Have used many many brands of cat litter and thought I'd found the best until I tried this one. It's really quite excellent for a clumping one. The clumps are easily removed. Though the litter is quite fine it doesn't get tracked out of the litter box as much as other brands. Also the dust level is pretty low on this one. So all in all a great cat litter for my two cats.

Golden Grey Cat Litter

A great cat litter. Have tried many different ones, but I'm really impressed with this one. Good value for money too.

Best Cat Litter Ever

I have used many cat litters including expensive ones but this is far the best , it clumps well and does not disintegrate upon scooping it out , the cats love it and is soft on their paws and hardly leaves any remains on the floor after using the litter box . Having 6 cats which are all very fussy , they all have taken to this litter . If they are happy then I am happy