Skip to content
Skip to navigation menu
Go-cat Complete with Tuna And Herring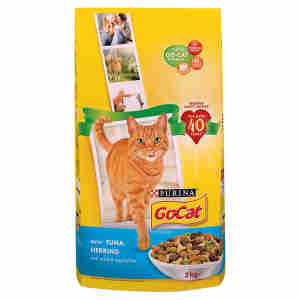 Rollover image to zoom
Product details
Go-cat Complete Tuna Herring and Veg made with quality fish, Go-Cat will help keep your cat healthy and full of vitality. Being 100% complete and balanced, it contains everything your cat needs nutritionally.
Go-cat Complete Tuna Herring and Veg has all the protein, vitamins and minerals he needs. And a cat full of vitality helps bring a home to life!
Key benefits:
Balanced essential minerals to help maintain a healthy urinary tract.
Quality protein to help support your cat's natural defences. Along with all the other beneficial ingredients, Vitamin E is good for your cat's health and helps to keep him full of vitality.
Helps maintain muscle tone and a healthy heart.
Great taste
Helps maintain strong bones and teeth with Vitamin D.
Ingredients
Cereals (min 4% Corn in Yellow Kibbles), Meat and Animal Derivatives, Vegetable Protein Extracts, Oils and Fats, Fish and Fish Derivatives (min 4% Herring in Red-Brown Kibbles and min 4% Tuna in Light-Brown Kibbles), Derivatives of Vegetable Origin, Minerals, Yeasts, Vegetables (min 4% Vegetables in Green and Orange Kibbles)
Dosage
Every cat has different feeding requirements, depending on their age and weight. Whether your cat is large or small, young or old, here's an easy guide about how much Go-Cat to feed your cat.
If your cat has not tried dry food before or is trying Go-Cat for the first time, introduce it over the course of ten days. Begin by mixing with wet food and gradually introduce more dry food.
Go-Cat Adult
| | | | |
| --- | --- | --- | --- |
| Cat weight | Adult 3 kg | Adult 4 kg | Adult 5 kg |
| Amount to feed per day | 55 grams | 70 grams | 90 grams |
Go-Cat Complete for Adult Cats is a 100% complete meal for cats aged 1-6 years. These guidelines are based on moderately active cats. Individual needs vary and feeding should be adjusted as required.
Fresh, clean water should always be available.
Customer reviews
Product reviews are filtered by language.
The following reviews are available in English.
Great bargain

I bought this dried cat food fir my 3 cats though they were stray kittens when came into my garden 2 years ago, they know what they like . Buying this large bag gas

[email protected]

me money and its great my cats favourite

Keeps them happy and healthy

I feed my two young cats on tinned food each morning and Go Cat for the rest of the day. They love it. I've just bought a bag of Tuna and Herring for a change, but they they are happy with either sort. They are young females, only about 2 years old, and supplement their diet by hunting, so they are living a healthy, natural life. I prefer to buy Go Cat in 10 kg bags from PS because it saves me from extra shopping.

Go cat

Big bag of Go cat biscuits

My two cats love Go-Cat, especially the rabbit, turkey and veg. Buying the large bag is economical, too, as it qualifies for free delivery, which took only a day or two.

Cats are meant to eat a diet of almost completely meat and cannot digest cereals, yet this has only about 8% meat from a specified animal source. Save money on your vet bills and buy a proper cat food that is full of the meat your cat needs to thrive on.