Skip to content
Skip to navigation menu
Frontline Spot On for Dogs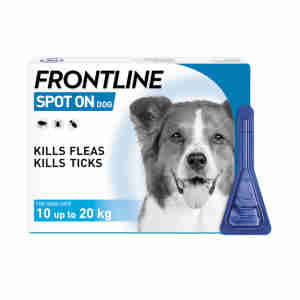 Rollover image to zoom
Frontline Spot On for Dogs is effective against flea infestation for approximately two months and against tick infestation for up to one month, depending on the level of environmental challenge.
Within 24 hours of landing on your pet, fleas are killed and the treatment last for up to one month. Frontline Spot-On Dog can be used in puppies from 8 weeks of age and weighing over 2kg.
Key Benefits:
Elimination of fleas (Ctenocephalides spp.) and insecticidal efficacy against new infestations with adult fleas persists for 4 weeks.
Prevention of the multiplication of fleas by inhibiting the development of eggs (ovicidal activity), larvae and pupae (larvicidal activity) originating from eggs laid by adult fleas for 6 weeks after application.
Elimination of ticks (Ixodes ricinus, Dermacentor variabilis, Rhipicephalus sanguineus). The product has a persistent acaricidal efficacy for up to 2 weeks against ticks (based on experimental data).
Elimination of biting lice (Felicola subrostratus).
48 hours after application pets can swim or be bathed as normal.
Can also be used as part of a treatment strategy for the control of Flea Allergy Dermatitis (FAD).

Administration:
Part the coat between the shoulder blades until the skin is visible. Place the tip of the spot-on pipette on the skin and squeeze gently to empty its contents onto the skin, preferably at two spots, one at the base of the skull and a second 2-3cm's further back.
Vet's Advice:
Contrary to popular belief, fleas do survive during the winter months, especially indoors; our warm houses provide the perfect breeding ground for fleas as they thrive in a warm and humid environment. People turn up the central heating to keep their homes warm, but this means that fleas are attracted to the home. Pet owners should take effective steps to rid their pets, and their homes, of these parasites and minimize risk of infestation by carrying out continuous year-round treatment, even in the winter months.
Please click here for flea accessories

Please note: for deliveries to the Republic of Ireland, this product can be only supplied on a veterinary prescription.
To ensure that you read the most up to date information about this product, please check the VMD's Product Information Database.
Legal category: AVM_GSL | Frontline Spot On for Dogs
Weight kg
1 pipette of ml
2-10
0.67
10-20
1.34
20-40
2.68
40-60
4.02
For dogs over 60kg bodyweight, use two pipettes of 2.68ml.
Customer reviews
Product reviews are filtered by language.
The following reviews are available in English.
frontline spot on

Always reliable, and very quick postage

Great service

1st delivery never happened but pet supermarket put things right in a swift and professional manner. Great product by the way.

Rocky

Excellent customer service delivered within a few days and not a bad price either I would definitely recommend this company.

excellent service

dog and cat products. Easy to order and very speedy receipt of products.

Excellent Purchase

I always use Petmeds for my dogs meds. They're great on price and a reliable service.