Skip to content
Skip to navigation menu
You have setup the following Repeat Order: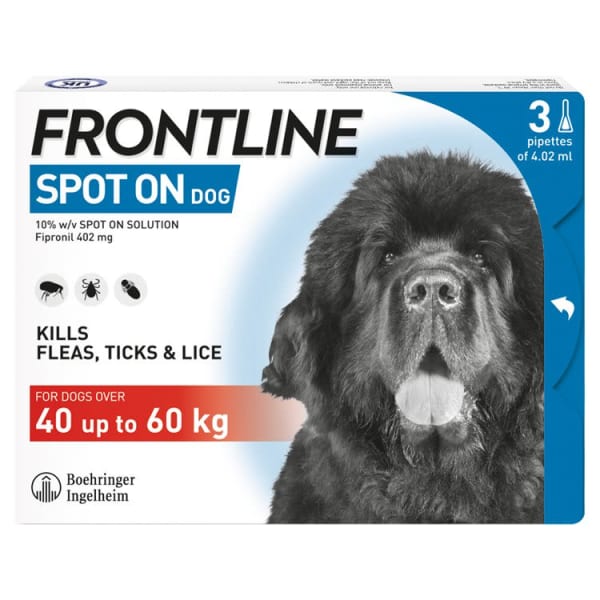 Frontline Spot On Flea & Tick Treatment for Extra Large Dogs (40-60kg)
Frontline Spot On Flea & Tick Treatment for Extra Large Dogs (40-60kg)
Frontline Spot On Flea & Tick Treatment for Extra Large Dogs (40-60kg)
Back in stock notification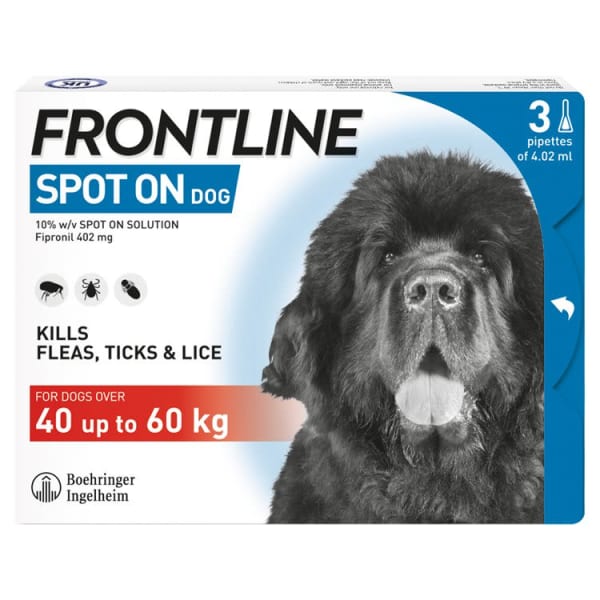 Frontline Spot On Flea & Tick Treatment for Extra Large Dogs (40-60kg)
Frontline Spot On Flea & Tick Treatment for Extra Large Dogs (40-60kg)
Enter your name and email address below then select which items you would like to be notified of when available.
Product details
FRONTLINE Spot On for dogs is an effective and easy-to-use treatment for fleas and ticks.
First used by vets, now available without a prescription. Once applied, the treatment will protect your dog from fleas, ticks and lice - use monthly all year round.
How it works
The medicine comes inside a pipette, which is then pressed against your dog's skin at the back of the neck and then again 2 or 3 cm further back to ensure your dog doesn't lick it off. The natural oils in your dog's skin then carry the medicine around the rest of their body. Once this is done, your dog can resume all their normal activities (but should avoid swimming or bathing for 48 hours after application) and you can enjoy peace of mind knowing that the problem is taken care of.
Key benefits
can be used on puppies over eight weeks old and weighing at least 2 kilograms
Kills fleas within 24 hours
Kills ticks within 48 hours
protects against fleas for up to two months
protects against ticks for up to one month.
Kills fleas, ticks and lice
When to use it
If your pet picks up any pests from long grass on walks or other animals, it's best to act as quickly as possible before the problem develops any further – fleas can swiftly spread to the rest of your household. Fleas and ticks attach themselves to your dog's skin and feed off their blood, causing a lot of irritation and discomfort.
If your dog is scratching more than usual or shaking their head often, it's worth using a flea comb to see if you can find any. Fleas particularly like the warmth of your dog's armpits, so check there first. It's also important to inspect your dog regularly for ticks all year-round, but especially in the summer months. Ticks are larger so can often be spotted quite easily and they should be carefully and quickly removed, as they can carry fatal diseases. Use our O'Tom tick remover to safely and painlessly pull ticks of your dog's fur.
Please click here for flea accessories


Water exposure such as bathing or shampooing does not affect the efficacy of this product as long as it doesn't occur more than once a week. If your dog is unwell, please see your vet for advice before you apply a flea treatment. FRONTLINE spot on for digs is not suitable for use on rabbits
Ingredients
This product contains: Fipronil 10% w/v, Butylhydroxyanisole (E320) 0.02% w/v, Butylhydroxytoluene (E321) 0.01% w/v,Non-aqueous vehicle qs to 100%.
Warnings
Do not use on puppies less than 8 weeks old (and /or weighing less than 2kg) Do not use on animals that are unwell, are undergoing treatment for, or are recovering from illness.
Dosage
Administration:
Protect your dog from fleas by administering this treatment once a month. It is recommended that you also treat your home if your dog has had fleas. This will help to prevent a reinfestation.
Part the coat between the shoulder blades until the skin is visible. Place the tip of the spot-on pipette on the skin and squeeze gently to empty its contents onto the skin, preferably at two spots, one at the base of the skull and a second 2-3cm's further back.
Weight kg
1 pipette of ml
Frequency
2-10
0.67
Monthly
10-20
1.34
Monthly
20-40
2.68
Monthly
40-60
4.02
Monthly
For dogs over 60kg bodyweight, use two pipettes of 2.68ml.