Skip to content
Skip to navigation menu
Flexi New Comfort Tape Leash for Large Dogs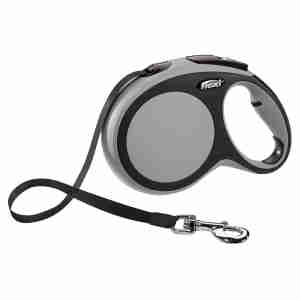 Rollover image to zoom
Product details
Give your dog a larger reach of the park whilst keeping them on the lead with the Flexi New Comfort Lead. An Ergonomic, adjustable handle keeps your hand comfortable on long walks and the snap hook ensures your dog's collar or harness is securely connected to the lead. Lead tangling isn't a problem with the Flexi New Comfort Leash, it rolls back automatically as you get closer to your dog.
Safety and quick reactions are important when dog walking. That's why the Flexi New Comfort uses a 'short stroke braking system'. It means you can lock the lead with one press. Helpful if your dog chases cats!
You can ensure you never forget dog poop bags, treats or a light during evening walks with the Flexi Multibox and Flexi Light. Both of these handy items attach to your New Comfort lead and are available to buy separately.
Key features
8m suitable for dogs that weigh up to 50kg
5m suitable for dogs that weigh up to 60kg
Retractable lead available with a 5m or 8m tape
Soft hand grip with adjustable handle
Short-stroke braking system
Lead automatically rolls back into casing when you approach your pet
Chromed snap hook.