Skip to content
Skip to navigation menu
Flexi Giant Professional Tape Leash Large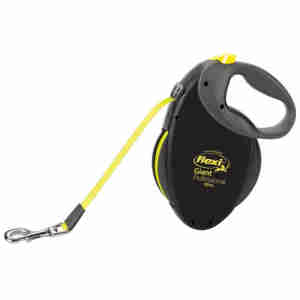 Product details
This large Flexi Giant Professional tape leash is designed for walking large breeds like yours in tough conditions.
How it works
This leash gives you and your dog freedom of movement while always making sure you have complete control. Even if your pet gets excited and likes to pull, you can easily reel them in if needed thanks to the retractable mechanism. It's also easy to maintain your grip, thanks to the specially designed ergonomic handle.
Large dogs can pull hard and even the toughest leash is no good if the body isn't up to the task. The solid and robust construction of the Flexi Giant tape leash means it can take a lot of punishment and you can rely on it even after extensive and demanding walks. This makes it ideal for professional as well as recreational use.
Key benefits
tough construction and robust body
eight metres in length
retractable
ergonomic soft grip handle for control
neon print for visibility
chrome snap clip attachment
When to use it
Walkies are essential for any dog, especially larger breeds who need to be active to stay in shape. When you're out in the park or fields, especially later in the evening, it can be hard to see where your pet is even if they're on the lead. This is even more true for retractable leads, as you might not be able to tell how far away they are from you. The neon tape on this leash means you'll always have a good sense of where they are.
As giving your pet a bit of freedom is also important, the generous eight-metre length gives them the ability to roam and explore too. Discipline is still vital of course, as ideally you don't want to let them pull too much. If you need some help when it comes to controlling your pet during walks, look to training classes for a few tips.


Cord Leash: 8M/26ft
Dog Weight: Up to 50kg/110lbs

Click here to view the Flexi range