Skip to content
Skip to navigation menu
Flexi Collection Tape Leash Medium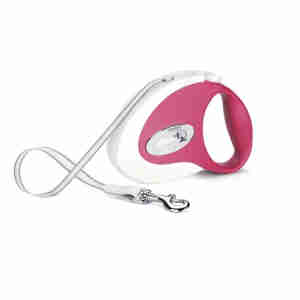 The Flexi Collection tape leash is ideal for teaching your pet to walk by your side, as well as giving them the freedom to roam safely.
How it works
Attach this leash to your dog's collar or harness with the sturdy clasp and choose your desired lead length by pushing in the button on the handle. To set this so that you don't have to keep holding the button down, simply slide the security lock on.
This lead lets you keep your pet by your side (great if other dogs are around) and lock in at just the right length for both of you to walk comfortably. It extends to up to five metres so you can give your pet a little space to run around and explore in the park. When you want to bring them in, simply unlock or let go of the button to retract the cord.
Key benefits
pocket-friendly lead for dogs up to 25 kilograms (55 pounds)
soft and ergonomic handle is comfortable to hold
strong tape lead with leather trim
sturdy chrome snap hook to attach to collar or harness
cord extends to five metres (16 feet)
When to use it
The Flexi Collection tape leash is ideal for dogs who have to stay on the lead but want the freedom to run and play in an open space. If you have a small to medium-sized breed such as a bulldog, pointer or Staffordshire bull terrier, this lead will keep them in check if they suddenly choose to lunge for a passing squirrel or another dog.
You could try teaching your pet to walk by your side (with the help of training treats) in and around town. When you get to the park, lengthen this lead to let them explore more of their surroundings.