Skip to content
Skip to navigation menu
Flevox Spot On Cat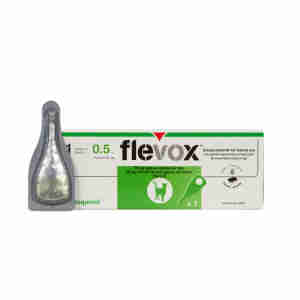 Rollover image to zoom
Product details
Keep your cat protected from fleas and ticks with Flevox Spot-on flea treatment. Flevox kills current fleas on your cat and should be used every 4 weeks to keep them protected from pests. Flevox is suitable for cats with flea allergy dermatitis.
Key features
easy to administer
great for cat's with sensitive skin
kills existing fleas and new ones in 48 hours
prevents ticks from returning for up to 1 week
protects your cat for 4 weeks
cats must be at least 8 weeks old/1kg in weight to use
To apply, part the coat between the shoulder blades until you can see the skin. Place the pipette gently on the skin and squeeze the pipette to release the treatment.
**Prescription needed in the Republic of Ireland**
To ensure that you read the most up to date information about this product, please check the VMD's Product Information Database.
Legal category: NFA_VPS | Flevox Spot On Cat
Ingredients
Fipronil (50 mg per pipette), Butylhydroxyanisole (E320), Butylhydroxytoluene (E321).
Warnings
Do not use on kittens less than 8 weeks old and/or weighing less than 1 kg.
Do not use in rabbits, as adverse drug reactions and even death could occur.
Do not use in case of hypersensitivity to fipronil or to any of the excipients.
Dosage
1 x 0.5ml pipette is one flea and tick treatment for one cat. This dosage should be repeated every 4 weeks for maximum protection.
Customer reviews
Product reviews are filtered by language.
The following reviews are available in English.
Flevox Works

Flevox is the best product i have tried and tested on my cats, no other product i have found is as effective. Highly recommended.

Does the job as well as any other fipronil-based treatment

If your cat doesn't need a specific flea treatment due to e.g. flea dermatitis where a treatment which does not require the flea to bite the animal may be more appropriate, then any fipronil-based treatment will do the job. I have not found my cats carrying fleas which have become fipronil resistant yet. I chose to buy Flevox this time round because it worked out cheapest per application bearing in mind that I bulk buy and had a discount voucher for MedicAnimal which I wanted to use to the full. The name of the product is a lot less important than its working compound. Having said that, I find the pipettes easy to use without sharp edges once opened.

Flevox Spot on Cat

Very good product just as good as frontline

fab stuff!

Absolutely brilliant used on my cats today and already the fleas are dying going to buy this more often saves a fortune and works better than frontline!!

Value for Money

Fipronil is the active ingredient in Frontline, Flevox works just as good as it has the same active ingredient. The product works the same, the only difference I find is that it leaves a spot of matte 'ness' to the fur where is was applied, but it went away after a number of days. Frontline usually only leaves a spot for a day or two as far as I can remember.