Skip to content
Skip to navigation menu
Feliway Refill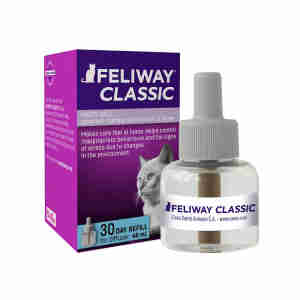 Rollover image to zoom
Product details
Create a stress-free environment for your cat at the flick of a switch with Feliway Refill.
How it works
When attached to a diffuser, Feliway Refill releases a powerful hormone that makes your cat feel safe and relaxed. This pheromone is the same one that cats produce when they rub their faces on you or your furniture – it leaves a subtle scent behind that signals that the area can be trusted. It's also released by mother cats when they're nursing their kittens. If your cat is getting stressed by environmental factors like fireworks, change of environment or unfamiliar guests, or if they're generally highly strung, you can help them calm down and feel at home with Feliway.
Key features
provides a soothing environment for 50-70 square meters
safe to use alongside other medications
won't make your cat drowsy
makes for a quick solution to problematic behaviour like aggression
lasts for 30 days when left on continuously.
no effect on humans.
When to use it
Many problematic behaviours in cats stem from them feeling uncomfortable and threatened, so if your cat can be a little aggressive or destructive, it's worth giving Feliway Refills a try. Other less obvious signs of stress include your cat becoming more withdrawn and unsociable than usual or if they stop using their litter box appropriately. It's important to keep an eye out for any sudden changes in your cat's behaviour or uncharacteristic reactions, as cats can be very sensitive to the slightest changes in their environment.
As well as making sure your cat is happy day to day, minimising stress is also important for their long-term health. Chronic stress over a long period can weaken the immune system, potentially making them prone to opportunistic diseases like kidney infections.
Feliway also makes a spray that you can use to help trips to the vet or a cattery become more pleasant for your cat.
Customer reviews
Product reviews are filtered by language.
The following reviews are available in English.
Feliway

This changed a very stressed cat who was causing baldness on inner back legs through continual grooming into a more relaxed and happy cat. He played with toys that he had not bothered with before and purred a great deal. Would most definitely recommend it and will continue to use it . I now have a different cat.

Great product

Read reviews cats were scratching my new stair carpet . Plugged the feliway in and the scratching wasn't as bad .

Feliway fefill

I wish I had used this before, my cat is much calmer, thank you

Feliway

Plug in feliway Works brilliant cat is so calm, he is so stress free, would strongly recommend

Works well

We have 2 male cats, siblings that get grumpy in each others company in the house for too long, but this really calms them and stops any aggression. Can really notice the difference when it runs out as the spats start up again! We also used it in a single room that we kept them in the first few days in our new house and it definitely soothed them, they quickly settled comfortably after quite a traumatic move. Would definitely recommend.