Skip to content
Skip to navigation menu
Feliway Refill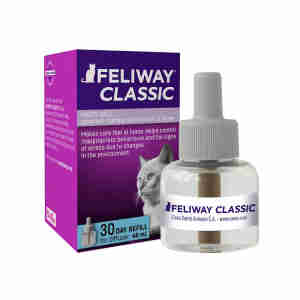 Product details
Create a stress-free environment for your cat at the flick of a switch with Feliway Refill.
How it works
When attached to a diffuser, Feliway Refill releases a powerful hormone that makes your cat feel safe and relaxed. This pheromone is the same one that cats produce when they rub their faces on you or your furniture – it leaves a subtle scent behind that signals that the area can be trusted. It's also released by mother cats when they're nursing their kittens. If your cat is getting stressed by environmental factors like fireworks, change of environment or unfamiliar guests, or if they're generally highly strung, you can help them calm down and feel at home with Feliway.
Key features
provides a soothing environment for 50-70 square meters
safe to use alongside other medications
won't make your cat drowsy
makes for a quick solution to problematic behaviour like aggression
lasts for 30 days when left on continuously.
no effect on humans.
When to use it
Many problematic behaviours in cats stem from them feeling uncomfortable and threatened, so if your cat can be a little aggressive or destructive, it's worth giving Feliway Refills a try. Other less obvious signs of stress include your cat becoming more withdrawn and unsociable than usual or if they stop using their litter box appropriately. It's important to keep an eye out for any sudden changes in your cat's behaviour or uncharacteristic reactions, as cats can be very sensitive to the slightest changes in their environment.
As well as making sure your cat is happy day to day, minimising stress is also important for their long-term health. Chronic stress over a long period can weaken the immune system, potentially making them prone to opportunistic diseases like kidney infections.
Feliway also makes a spray that you can use to help trips to the vet or a cattery become more pleasant for your cat.
Customer reviews
Product reviews are filtered by language.
The following reviews are available in English.
Happy cat

Cat is so happy and contented

Contented cat at last

Excellent product at a very competitive price. Will certainty be back to shop here again.

Nervous Feline

Have used this for many years. I have to; my rescue cat is so nervous she jumps at her own shadow. When I have visitors or any building/decorating work etc. Feliway is a blessing for her as it keeps her calm and out of stress.

Excellent

Feliway refil helped my cat who is anxious. Very good service from Pet Supermarket and product cheaper than anywhere I could find. Will use them again.

Calmer Cats

Have always ordered this from this website. Good price and quick delivery. Have used this product for 20 years or more. My cats always sleep in the kitchen overnight and we presently have a tabby who is very nervous. Feliway has a wonderful calming effect. Thoroughly recommend it.