Skip to content
Skip to navigation menu
You have setup the following Repeat Order: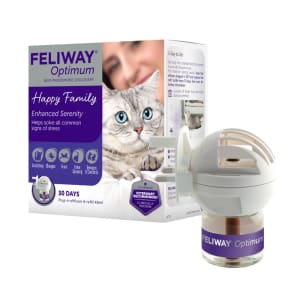 Feliway Classic Starter Kit Plug-In Refill Diffuser
Product details
FELIWAY® Optimum is BRAND NEW to the FELIWAY® range and now calms cats better than ever in more situations for enhanced serenity. It contains a NEW feline pheromone complex that conveys even more impactful messages to your cat which helps them cope with our modern lifestyles. Cats naturally produce pheromones, some of these are invisible calming messages. FELIWAY® Optimum contains the most advanced Feline Pheromones Complex, developed by the FELIWAY® research team.
FELIWAY® has been around for over 20 years and is the leading feline behavioural product with over 11 million cats worldwide benefiting from its uses. With a wealth of expertise and over 24 studies to back up its claims, FELIWAY® is the go to behaviour range for your cat. FELIWAY® products contain complex pheromones that convey impactful messages to your cat helping them cope and adjust to our lifestyles.

Use FELIWAY® Optimum to help reduce more signs of cat stress related behaviours in more situations including:
- Scratching
- Urine Spraying
- Tensions & Conflicts
- Environmental changes (e.g. moving home, new baby)
- Fears & anxieties
Feline Pheromones analog Complex (FPHC) 2%
Isoparaffinic hydrocarbon 48ml
Each pack contains a FELIWAY® Optimum Diffuser and Refill.

Plug in where the cat(s) spend most of their time. Available as a home diffuser which has been designed to be plugged in and left on continuously. Covers an area up to 70m2.

Before an anticipated event i.e. moving, arrival of a new baby or new cat, rennovation work etc it's recommended to plug in the diffuser 48 hours in advance.

Suitable for cats of all ages.

Each FELIWAY® Optimum refill lasts up to 30 days

93% of owners observe enhanced serenity in their cat after 1 month* when using FELIWAY Optimum.

FELIWAY® Optimum has a 9.1/10 Cat owner satisfaction**

References:
* Field Efficacy study: Ceva Sante Animale Internal report ST-CLT/D921/1909 (2020). % cats showing an improvement in intensity over 28 days.
**Field Substitution study: Ceva Sante Animale Internal report CLT-D921-1804 (2018) Cat owner's satisfaction : on a scale from 0 to 10, the average rating for satisfaction with the product was 9.1/10