Skip to content
Skip to navigation menu
Feline Choice Complete Senior Cat Food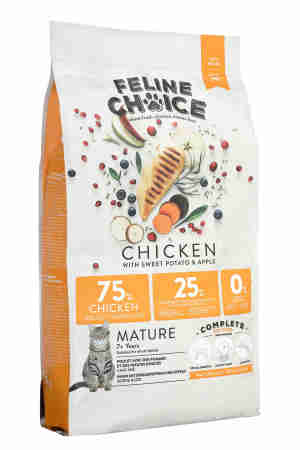 Rollover image to zoom
Product details
Feline Choice Mature is a high-protein and all-natural food for your senior cat. It contains 75% chicken (45% of it fresh), is low in fat, and has extra fibre to support your cat as she gets on in years.
Frustrated by the poor ingredients (and excessive prices) of conventional cat food, our vet Andrew decided to create the type of meal cats should really be enjoying. That means meat-rich, grain-free and full of kitty-compatible ingredients.
Feline Choice offers your senior cat...
A diet rich in fresh meat − a whole protein from one single source (chicken)
A complete cat food for older cats − helps sustain immunity, digestion and organ function
A recipe that is low in fat and higher in fibre − for better absorption of nutrients
Tailored nutrition for senior cats of all breeds from the age of 7 − when their metabolism starts to slow down
Natural ingredients that cultivate health, including:
Sweet potato, apple, tapioca, yucca, cranberry, pomegranate, blueberry, fish oil, brewer's yeast, prebiotics & probiotics, sea algae, spearmint, fennel seed and grapeseed
Vitamins and minerals − Vitamin A, C, D and E; iron, copper, manganese, zinc and selenium.
The 6kg bags are resealable to keep food fresh longer.


Feline Choice is where fresh chicken comes first - the straight answer to optimum cat nutrition.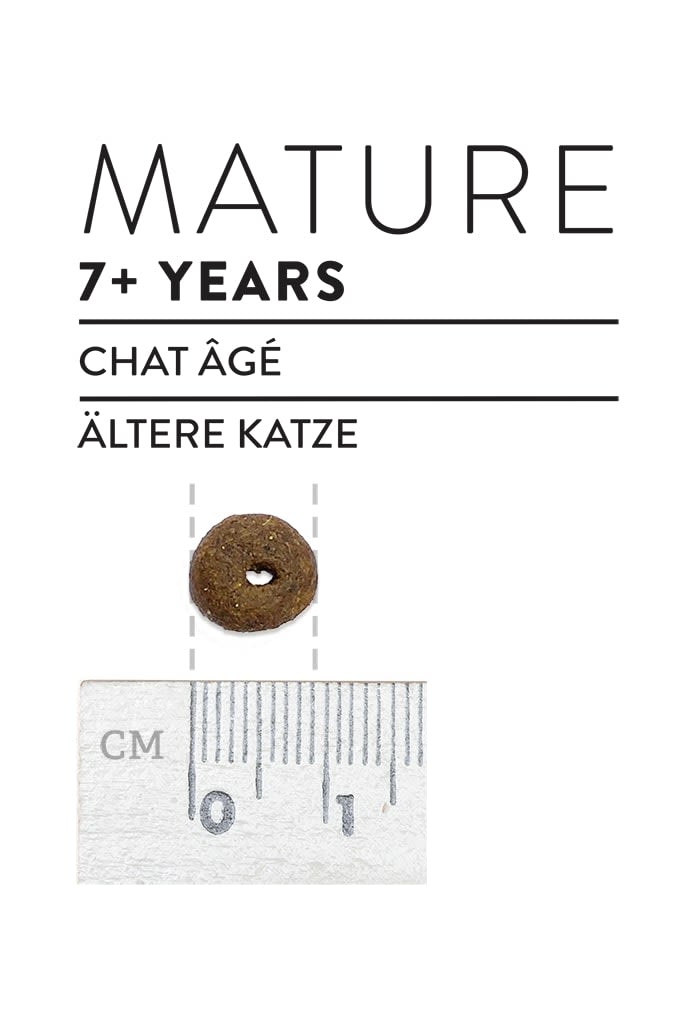 Ingredients
Composition:
Fresh chicken (40%), Dehydrated chicken (30%), Tapioca (8.5%), Apple pulp (6%), Hydrolysed chicken liver (5%), Potatoes (3%), Sweet potato (3%), Chicken fat, Fish oil (source of omega-3), Minerals, Brewer's yeast (0.75%), Psyllium (0.5%), Autolysed yeast (0.408%), Prebiotic FOS (0.2%), Prebiotic MOS (0.2%), Algae (high in DHA) (0.2%), Beta-glucans (0.04%), Yucca extract (0.02%), Pomegranate extract (0.015%), Cranberry extract (0.015%), Blueberry powder (0.01%), Spearmint (0.01%), Fennel seed (0.01%), Grapeseed extract (0.002%).
Analytical constituents:
Protein 34.5%, Fat content 16.5%, Crude fibre 3.5%, Crude ash 8%, Calcium 1.1%, Phosphorus 0.95%, Omega-3 0.35%. Metabolizable energy 4,100 kcal/kg.
Additives:
Vitamin A (as retinyl acetate) 20,000 lU/kg, Vitamin D3 (as cholecalciferol) 1,900 lU/kg, Taurine 1100mg/kg, Vitamin E (as all-rac-alpha- tocopheryl acetate) 500 mg/kg, Vitamin C (as sodium calcium ascorbyl phosphate) 200 mg/kg, L-carnitine 200 mg/kg. Trace elements: Iron (as iron (II) chelate of amino acids hydrate) 45 mg/kg, Copper (as cupric chelate of amino acids hydrate) 8 mg/kg, Manganese (as manganese chelate of amino acids hydrate) 16 mg/kg, Zinc (as zinc chelate of amino acids hydrate) 50 mg/kg, Iodine 2-2.2mg/kg, Selenium (as L-seleniomethionine) 0.2 mg/kg.
Antioxidants: Tocopherol extracts from vegetable oils 130mg/kg.
Acidity regulators: Sodium bisulphate 5,000 mg/kg.
Feeding Guide
If this is the first time you're feeding your cat Feline Choice, it's easy to switch from their current food over the course of a few days. Start of by replacing 25% of their existing food with this one, then increase the amount of the new food by 25% every other day until they've fully made the switch.
And one last thing – we know a feeding table isn't the most exciting thing to study, but please do take care to read it, as your cat is likely to need a different amount of Feline Choice per day than their previous diet (as it's so full of goodness and energy per gram). As with any diet change, it's good to keep an eye your pet's weight.
Recommended quantity (g/day)

Weight of the cat (kg)

2

3

4

5

6

7

Weight maintenance

39

51

62

72

81

90

Weight loss

--

49

55

60

65

63
Always make sure your feline friend has access to plenty of fresh water.
Customer reviews
Product reviews are filtered by language.
The following reviews are available in English.
OK as Grain free

Dark in colour, grain free, I have introduced these biscuits as advised over several weeks. Given the choice, my cats will pick out the Wellbeloved biscuits every time, I have also put down only Feline choice on there own and these have been eaten more slowly, and even left uneaten. Would suggest only buy a trial size pack first.

My 2 cats tucked in without hesitation.

I use this dried just to top up a more natural & raw food diet and even the more fussy female ate it with gusto. I always look for a high percentage of real meat in dry kibble and this is good value for the meat content.

Dried cat food

Looks nice , my cat loves it.

Very popular with fussy Trigger!

Trigger is a fussy 8-year old tortie with an attitude obviously. She loves these biscuits. Our kitten seems to like them as well much more than her own biscuits, thats for sure. So I would say it is a safe purchase. I went for the 6kg bag and no regrets whatsoever.

3 Spoilt Cats Approve

Bought this because of healthy ingredients. My 3 furry friends were anxious to try it but are a messy eaters. The kibble size is small and they are used to larger pieces. They tend to spill it out of their bowls.