Skip to content
Skip to navigation menu
Feline Choice Complete Adult Cat Food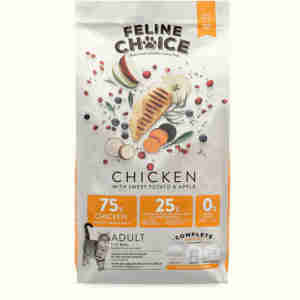 Rollover image to zoom
Product details
Feline Choice Adult is a high-protein and all-natural food for your cat. With 75% chicken (45% of it fresh) and health-boosting plants and minerals, it's cat nutrition at its purest and finest.
Frustrated by the poor ingredients (and excessive prices) of conventional cat food, our vet Andrew decided to create the type of meal cats should really be enjoying. That means meat-rich, grain-free and full of kitty-compatible ingredients.
Feline Choice offers your cat...
A diet rich in fresh meat − a whole protein from one single source (chicken)
A complete cat food − helps support immunity, digestion and organ function
Tailored nutrition for adult cats of all breeds (1-6 years)
Natural ingredients that promote health, including:
Sweet potato, apple, tapioca, yucca, cranberry, pomegranate, blueberry, fish oil, brewer's yeast, prebiotics & probiotics, sea algae, spearmint, fennel seed and grapeseed.
Vitamins and minerals − Vitamin A, C, D and E; iron, copper, manganese, zinc and selenium.
The 6kg bags are resealable to keep food fresh longer.


Feline Choice is where fresh chicken comes first − the straight answer to optimum cat nutrition.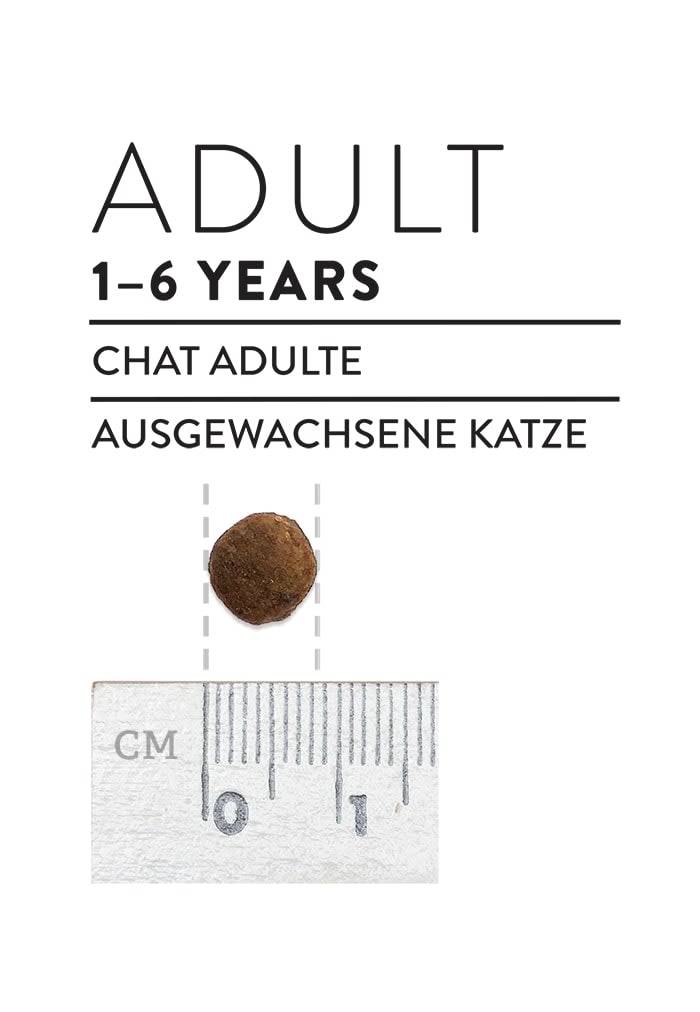 Ingredients
Composition:
Fresh chicken (40%), Dehydrated chicken (30%), Potatoes (8%), Chicken Fat, Hydrolysed chicken liver (5%), Apple pulp (3%), Sweet potato (3%), Tapioca (2.75%), Fish oil (source of omega-3), Minerals, Brewer's yeast (0.75%), Autolysed yeast (0.408%), Prebiotic FOS (0.2%), Prebiotic MOS (0.2%), Algae (high in DHA) (0.2%), Beta-glucans (0.04%), Yucca extract (0.02%), Pomegranate extract (0.015%), Cranberry extract (0.015%), Blueberry powder (0.01%), Spearmint (0.01%), Fennel seed (0.01%), Grapeseed extract (0.002%).
Analytical constitients:
Protein 35%, Fat content 22%, Crude fibre 2.2%, Crude ash 8%, Calcium 1.1%, Phosphorus 1.0%, Omega-3 0.45%. Metabolizable energy 4,500 kcal/kg.
Additives:
Vitamin A (as retinyl acetate) 20,000 lU/kg, Vitamin D3 (as cholecalciferol) 1,850 lU/kg, Taurine 1100mg/kg, Vitamin E (as all-rac-alpha- tocopheryl acetate) 400 mg/kg, L-carnitine 200 mg/kg, Vitamin C (as sodium calcium ascorbyl phosphate) 150 mg/kg. Trace elements: Iron (as iron (ll) chelate of amino acids hydrate) 45 mg/kg, Copper (as cupric chelate of amino acids hydrate) 8 mg/kg, Manganese (as manganese chelate of amino acids hydrate) 24 mg/kg, Zinc (as zinc chelate of amino acids hydrate) 50 mg/kg, Iodine 2-2.2mg/kg, Selenium (as L-seleniomethionine) 0.2 mg/kg.
Antioxidants: Tocopherol extracts from vegetable oils 130mg/kg.
Acidity regulators: Sodium bisulphate 3,000 mg/kg.
Feeding Guide
If this is the first time you're feeding your cat Feline Choice, it's easy to switch from their current food over the course of a few days. Start of by replacing 25% of their existing food with this one, then increase the amount of the new food by 25% every other day until they've fully made the switch.
And one last thing – we know a feeding table isn't the most exciting thing to study, but please do take care to read it, as your cat is likely to need a different amount of Feline Choice per day than their previous diet (as it's so full of goodness and energy per gram). As with any diet change, it's good to keep an eye your pet's weight.
Recommended quantity (g/day)

Weight of the cat (kg)

2

3

4

5

6

7

Weight maintenance

35

46

57

66

73

82

Weight loss

--

45

50

55

49

63
Always make sure your feline friend has access to plenty of fresh water.
Customer reviews
Product reviews are filtered by language.
The following reviews are available in English.
Cat loved it

My cat loves this and it seems good quality

Feline Choice Complete adult cat food

I tried this food with my cats as the description sounded very healthy for them. Im afraid they didnt enjoy it at all, the bag remains in the cupboard and Ive ordered their usual food. Worth a try but not a success this time.

Success

My picky Persian really went for this.

OMG Stevey loves it!

Stevey was eating some supermarket low-quality food, and he was not a huge fan of it', it smells horrible. I started using the kibble as treats, put a bowl full of FC in the floor and he instantly took it out of my hands. He is full of energy now and he is getting fit and beautiful. He has now three new girlfriends around the house and his present went from two mice a week to 5 mice, two little birds and a big pigeon. Pure gold this food.

The best food EVER!

My cat loves this! the ingredients are amazing and priced very reasonably, switched easy to this with no problem. I will certainly recommend Feline Choice to all my mad catter friends and family!