Skip to content
Skip to navigation menu
FURminator deShedding Tool for Equine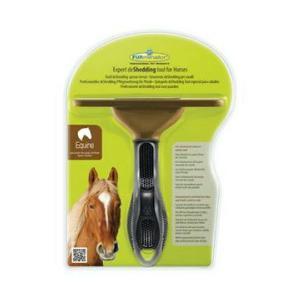 Product details
FURminator deShedding Tool for Equine specially designed for horses, it effectively removes their winter coat and loses hair faster than any brush, rake or comb. Reduces shedding up to 90%.
Key Benefits:
5"/12, 7 cm deShedding edge
Reduces shedding up to 90%; better than conventional brushes or combs
Stainless steel deShedding edge reaches deep beneath your horse's topcoat to gently remove undercoat and loose hair
Regular grooming will help maintain healthier skin and coat and reduce allergens, while stimulating circulation and hair growth
Designed by a groomer for professional results
Used and recommended by veterinarians and professional groomers
Use the FURminator deShedding Tool on a regular basis. Increase frequency during heavy shedding seasons.
Customer reviews
We're sorry but there are no reviews of this product in English.