Skip to content
Skip to navigation menu
FURminator deShedding Tool Small Animal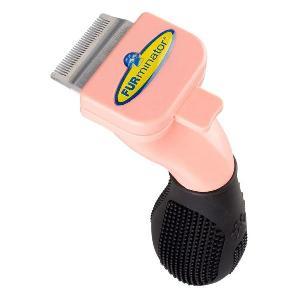 Product details
Furminator Small Animal deShedding tool is perfect for grooming and deshedding rabbits, guinea pigs or ferrets. It also helps prevent hairballs and reduces shedding. With a 1.25" deShedding edge.
Key Benefits:
Recommended by veterinarians to help prevent life-threatening hairballs from developing.
Effectively reduces excess shedding without harming sensitive skin.
Stainless steel deShedding edge reaches deep beneath your pet's topcoat to gently remove undercoat and loose hair.
FURejector button cleans and removes loose hair from the tool with ease.
Shorter ergonomic handle for added versatility when grooming small pets.
Guaranteed to reduce shedding better than any brush, rake or comb.
Patented technologies.
Customer reviews
We're sorry but there are no reviews of this product in English.