Skip to content
Skip to navigation menu
Eukanuba Veterinary Diet Joint Mobility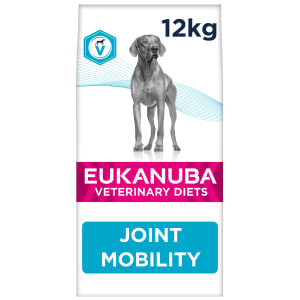 Product details
Eukanuba Dog Veterinary Diet Joint Mobility provides nutritional support for joint and mobility issues. This diet is formulated to nutritionally manage joint issues and related issues of aging that often occur. In addition, this formula helps address other indications that may benefit from the nutritional content, plus provide nutrients needed to support overall health and well-being. Joint Mobility utilises a total body approach, starting with glucosamine and chondroitin sulfate building blocks for cartilage, along with an adjusted omega-6: omega-3 fatty acid ratio to manage inflammation at the cellular level. In addition, Joint Mobility is made with 26% less fat* plus L-carnitine to help maintain a healthy weight, and includes antioxidants to help maintain healthy immune function, especially important for ageing dogs.

Key Benafits:
Purified sources of glucosamine and chondroitin sulfate - provide the building blocks for cartilage to support joint health.
Targeted omega-6: omega-3 fatty acid ratio - helps nutritionally manage inflammation at the cellular level.
L-Carnitine - facilitates the oxidation of fat.
Reduced fat* - helps maintain a healthy weight which minimises stress on joints.
Appropriate levels of high-quality animal protein - helps support muscle mass and vital organs in senior dogs.
Vitamin E - an antioxidant to help maintain a strong immune system vs Eukanuba Adult Medium Breed.
Beet pulp (3.5%) - a moderately fermentable fibre that produces butyrate, a short chain fatty acid (SCFA), which is a preferential energy source for the enterocytes and promotes intestinal health.
FOS (fructooligosaccharies 0.4%) - prebiotics which aid in GI health and have been shown in a clinical study to help maintain the balance between beneficial and potentially pathogenic bacteria.
DentalCare System - to help reduce tartar build-up across the whole mouth during and beyond mealtime.
It is recommended that a veterinarian's opinion be sought before and during the use of this product in order to determine the needs of your dog.
Customer reviews
Product reviews are filtered by language.
The following reviews are available in English.
Good value

I've had my German Shepherd on this for a while now. I've been able to just give her this and no longer need the Youmove tablets as there is a mobility included. She takes this dry and even in her Kong as a treat so good value

The best of the best

This is the best Dogs food we have found for over 20 Years for all of our Dogs from the German Shepherd, Curly Coated Retriever & now our Labrador who is nearly eleven.