Skip to content
Skip to navigation menu
Eukanuba Puppy Veterinary Diet Intestinal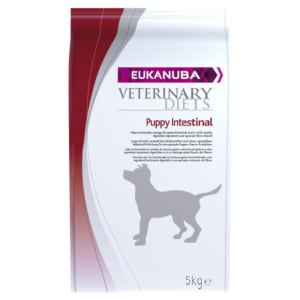 Product details
Eukanuba Puppy Veterinary Diet Intestinal provides nutritional support for intestinal disorders. These diets are formulated to nutritionally manage GI issues and patient recovery. In addition, these formulas help address other indications that may benefit from the nutritional content, plus provide nutrients needed to support overall health and well-being.

Key Benefits:
MOS (mannanoligosaccharides) - binds potentially pathogenic bacteria preventing them from adhering to the intestinal wall and excreting them safely with the faeces.
Beet pulp - a moderately fermentable fibre that produces butyrate, a short chain fatty acid (SCFA), which is a preferential energy source for the enterocytes and promotes intestinal health. helps regain optimal stool consistency.
FOS (fructooligosaccharides) - prebiotics which aid in GI health and help maintain the balance between beneficial andpotentially pathogenic bacteria.
Targeted omega-6: omega-3 fatty acid ratio - helps nutritionally manage inflammation at the cellular level.
Vitamin E - an antioxidant to help maintain a strong immune system.
High quality animal-based protein - aids in recovery and overall health and well-being.
DHA - an omega-3 fatty acid to enhance cognition for a smart, trainable puppy.
It is recommended that a veterinarian's opinion be sought before and during the use of this product in order to determine the needs of your dog.
Customer reviews
Product reviews are filtered by language.
The following reviews are available in English.
Our new cocker spaniel puppy got to over four months with no let up in his diarrhoea. Eventually our vet put him on this food and within a few days the diarrhoea was cleared up - marvellous!

This food has really helped my standard poodle puppy, whos`s been very ill with a bacterial and parasite infection. Would recomment it

Recently i brought a standard poodle, unfortunately she was very poorly from the word go. She had a Gardia parasite infection, also a nasty bacterial infection. It was so bad she was on intravenous fluids for several days on 2 occasions. Well she`s had appropriate medications from the vet, but her motions were still extremely loose dispite this. By chance i found the Eukanuba Intestinal formula, and WOW! what a huge improvement! After one day on it she was passing normal stools. Thank goodness for Eukanuba!