Skip to content
Skip to navigation menu
Eukanuba Cat Veterinary Diet Urinary Oxalate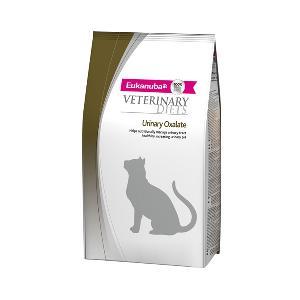 Product details
Eukanuba Veterinary Diets Urinary Oxalate for cats is recommended for the management of urinary crystal formation. It is especially formulated to nutritionally manage feline lower urinary tract disease by adjusting urine pH to levels that lessen the probability of struvite crystal formation or calcium oxalate crystal formation. In addition, these formulas help address other indications that may benefit from the nutritional content, plus provide nutrients needed to support overall health and well-being.

Key Benefits:
Potassium citrate - helps raise urinary pH to at least 6.6, increases urinary citrate and calcium excretion to inhibit calcium oxalate crystal formation

Targeted omega-6: omega-3 fatty acid ratio - helps nutritionally manage inflammation at the cellular level

Moderate fat and calorie levels - to help maintain a healthy weight

High quality animal-based protein - helps maintain muscle mass

Vitamin E - an antioxidant to help maintain a strong immune system

Beet pulp - moderately fermentable fibre that produces butyrate, a short-chain fatty acid (SCFA), which is a preferential energy source for the enterocytes and promotes intestinal health

It is recommended that a veterinarian's opinion be sought before and during the use of this product in order to determine the needs of your cat.

Customer reviews
Product reviews are filtered by language.
The following reviews are available in English.
Eukanuba diet urinary oxalaye

My 2 cats snapped this up, they were on science hills c/d and fed up with repapitive diet!! Seems to be agreeing with our boy who had sttrutive stones,