Skip to content
Skip to navigation menu
"Best of its kind"
Eukanuba Cat Veterinary Diet Intestinal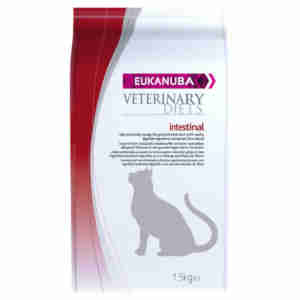 Rollover image to zoom
Product details
Eukanuba Veterinary Diets Intestinal for cats is recommended for cats with digestive issues. It is especially formulated to nutritionally manage GI issues and patient recovery. In addition, this formula help address other indications that may benefit from the nutritional content, plus provide nutrients needed to support overall health and well-being.

Key Benefits:
MOS (mannanoligosaccharides) - binds potentially pathogenic bacteria preventing them from adhering to the intestinal wall and excreting them safely with the faeces

Beet pulp - a moderately fermentable fibre that produces butyrate, a short chain fatty acid (SCFA), which is a preferential energy source for the enterocytes and promotes intestinal health. Helps regain optimal stool consistency.

FOS (fructooligosaccharides) - prebiotics which aid in GI health and have been shown in a clinical study to help maintain the balance between beneficial and potentially pathogenic bacteria

Low fat levels - decrease the workload of the pancreas and help digestive function that can be compromised by GI issues. Help minimise steatorrhea.

Targeted omega-6: omega-3 fatty acid ratio - helps nutritionally manage inflammation at the cellular level

Vitamin E - an antioxidant to help maintain a strong immune system

High quality animal-based protein - aids in recovery and overall health and well-being

It is recommended that a veterinarian's opinion be sought before and during the use of this product in order to determine the needs of your cat.

Customer reviews
Product reviews are filtered by language.
The following reviews are available in English.
for constipation

my cat had diarrhea for many years, until the vet said that actually it was constipation. I have to give him twice a day lactose. The feces are very dry. I don't know what else to give him as with other foods is even worse. Not sure this also covers constipation. I wish there was something out there for him. I also give him Hills science wet food digestive and milk 3 times a day when he doesn't eat anything, plus boiled chicken. It is always a worry. But he eats this dry food when he doesn't touch the chicken or the science plan prescription food cans only cans help. He is worse than a baby as I have been at it for 12 years now.

My cat has been suffering pancreatic problems now for about 2 years. This is the second bag of Eukanuba Intestinal Diet dry food that we have bought, she likes it. The tinned version of this, however is very dry and sticky, she doesn't like that, so we give her low fat wet foods too.

Cat has allergies and made from chicken which appears cat allergic too still gave very loose poohs/stools. Not very tasty for cat and hard