Skip to content
Skip to navigation menu
Eukanuba Breed Specific Labrador Retriever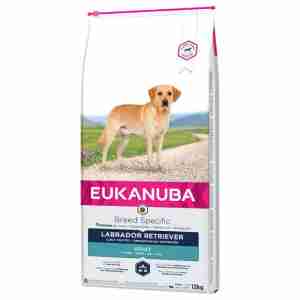 Rollover image to zoom
Product details
Keep your beloved pet in tip-top shape with Eukanuba Breed Specific dog food for Labrador retrievers.
How it works
This complete and balanced food can be given to your dog daily to keep their weight down, their joints healthy and their heart in great working order. It's packed with quality protein for energy, omega-3 and omega-6 fatty acids for soft skin and shiny fur, and beet fibres to encourage healthy digestion. It also has a delicious chicken flavour your dog won't be able to resist it.
The taurine in this food helps your dog's heart keep on ticking, and L-carnitine helps to burn fat. Added glucosamine and chondroitin sulphate promote supple, strong joints, which can suffer from wear and tear after all that running and playing. This food is recommended for Labrador retrievers over the age of 12 months.
Key benefits
designed specially for Labrador retrievers
naturally burns fat
supports healthy joints
L-carnitine and natural taurine for a healthy heart
delicious chicken flavour
When to use it
Labrador retrievers can be prone to putting on weight as they age. This food helps them to maintain a healthy size by naturally burning fat. It's especially effective when combined with regular, rigorous exercise. As they're very active and energetic, this breed can also struggle with sore and stiff joints and a weakening heart. This tasty food can help them get back on their feet.
If you're concerned about your Labrador's health, it's worth seeking some expert advice before you set out on a treatment plan. Always consult your vet before changing your dog's diet, so you don't upset the balance of their digestion. Your vet might well recommend a breed-specific food like this one to help combat your pet's symptoms.
Customer reviews
Product reviews are filtered by language.
The following reviews are available in English.
Superb food

We changed to this food and are now on our fourth 12kg bag, Rumer our lab loves it, her coat is beautiful and shiny, she has just had her first litter of pups and is producing loads of milk, she is bright and full of energy... great choice and we would recommend to any Lab owners.

Health and weight issues on the mend .

My chocolate Labradore has gain a lot of weight due to the food I had him on , also he was having skin rashes and itchy ears every two weeks I read about the benefits of eukanuba whilst thinking about changing his food after reading the type of food I should try I bought eukanuba he is on his second 12kg bag of food Glenn my dog is really benefiting from this food his weight is coming down slowly but surely and since his approx second week of being on this food he has not had his skin or ear problems return I am so pleased if my dog is happy then so am i, .

Shiny coat. Clean teeth. Healthy tummy. Plenty of energy. Mollie loves it, so I'll keep buying it!

We adopted a 5 year old choccy lab 2 years ago. To start with, we fed him generic dog food. We were then told about this food and it has changed him completely. For a 7 yr old, he is playful, active and very healthy, with a lovely, shiny coat. Not expensive as you actually don't feed so much - and it's worth it for the difference it makes. Cannot recommend it enough. Pet Supermarket great, too!

I have a Labrador collie cross. People often remark how shiny her coat is. I've tried various foods and this comes out in the top two and clearly labels, what dog it is for. This is helpful with all the wide choice available and it's great to know you have a product specifically for your dog breed. I love the fact protein is listed as the first ingredient and not wheat based bulkers and that my dog is getting all she needs. Ordering from Pet Supermarket , you can get it delivered straight to your door :)