Skip to content
Skip to navigation menu
Endogard Plus XL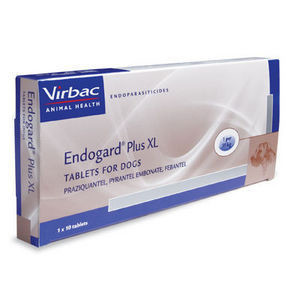 Product details
Endogard Plus XL worming tablets are specifically designed to treat roundworm, tapeworm, hookworm and whipworm in dogs that weigh more than 35kg. As worming tablets are usually hard for your dog to swallow, Endogard tablets are flavoured with liver to make them more palatable.These worming tablets should be used every 3 months in adult dogs.
Key features
palatable liver flavour
treats 4 different worm parasites
suitable for dogs over 35kg
1 tablet administered for every 35kg of weight
suitable for dogs from 2 weeks old
not suitable for pregnant or lactating animals
Please note: a prescription is needed for orders from Denmark
Please be aware that this medicine can only be supplied for a maximum of one year treatment per animal.
To ensure that you read the most up to date information about this product, please check the VMD's Product Information Database.
Legal category: NFA_VPS | Endogard Plus XL
Ingredients
Composition:
Praziquantel 50 mg, Pyrantel embonate 144 mg, ebantel150 mg.
Warnings
This product is not recommended for use in dogs under 17.5 kg body weight. Any part-used tablets should be discarded.
Dosage
For the control of Toxocara, nursing bitches should be dosed 2 weeks after giving birth and every 2 weeks until weaning.
In the event of a heavy roundworm infestation, a repeat dose should be given after 14 days.
For routine control adult dogs should be treated every 3 months.
Administer one tablet for every 35kg of body weight. Tablets can be split to make up the correct dosage.
| | | |
| --- | --- | --- |
| Body weight (kg) | Tablet quantity | Frequency |
| <17.5kg | Use Endogard Plus | Every 3 months |
| 17.5 - 35kg | 1 | Every 3 months |
| >35kg | 1 per every 35kg. Tablets can be halfed and quarted to make up the correct dose | Every 3 months |
Customer reviews
Product reviews are filtered by language.
The following reviews are available in English.
worming a greyhound

owning a greyhound pup that weights 30 kilo it was ideal to get one tablet instead of trying to worm him with 3 or 4 of the smaller ones one tablet job done