Skip to content
Skip to navigation menu
Eliminall Spot On for Small Dogs (2-10kg)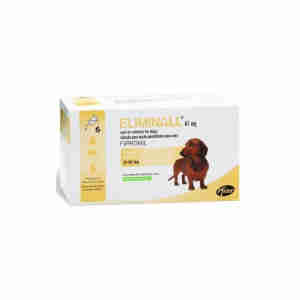 Rollover image to zoom
Product details
Treat your dog for fleas and ticks with Eliminall Spot-On for Dogs. Eliminall kills fleas within 24 hours and any ticks or lice within 48 hours. The fipronil based treatment will keep your dog protected from fleas for up to 8 weeks. For the treatment to perform at its best it is recommended that it is repeated every 4 weeks. Can be used to help treat Flea Allergy Dermatitis (where previously diagnosed by a vet).
Key features
Easily to apply, administer to back of neck
Kills fleas within 24 hours, protects for up to 8 weeks
Kills ticks within 48 hours
Can help with flea allergy dermatitis
Suitable for dogs over 2 months old and/or 2kg in weight
Although Spot-On treats fleas, the majority of fleas nestle in the home. If if you are treating your pet for a current infestation, it is recommended that you treat your home too.
**This product needs a prescription in the Republic of Ireland and cannot be shipped to Denmark**
Please be aware that this medicine can only be supplied for a maximum of one year treatment per animal.
To ensure that you read the most up to date information about this product, please check the VMD's Product Information Database.
Legal category: NFA_VPS | Eliminall Dog Spot On
Ingredients
1 pipette of 4.02ml contains: Fipronil 402mg. Also contains the excipients butylhydroxyanisole and butylhydroxytoluene.
Warnings
Do not use on puppies less than 2 months old and/or weighing less than 2 kg.
Dosage
Administer at the first sight of fleas and/or repeat every 4 weeks to keep your dog protected from fleas.
| | | |
| --- | --- | --- |
| Weight (kg) | 1 pipette of (ml) | Frequency |
| 2-10 | 0.67 | Monthly |
| 10-20 | 1.34 | Monthly |