Skip to content
Skip to navigation menu
Eliminall Dog Spot On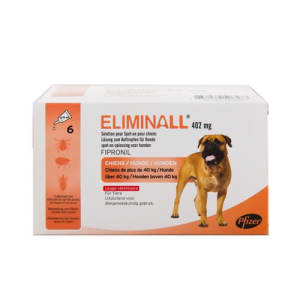 Product details
Treat your dog for fleas and ticks with Eliminall Spot-On for Dogs. Eliminall kills fleas within 24 hours and any ticks or lice within 48 hours. The fipronil based treatment will keep your dog protected from fleas for up to 8 weeks. For the treatment to perform at its best it is recommended that it is repeated every 4 weeks. Can be used to help treat Flea Allergy Dermatitis (where previously diagnosed by a vet).
Key features
Easily to apply, administer to back of neck
Kills fleas within 24 hours, protects for up to 8 weeks
Kills ticks within 48 hours
Can help with flea allergy dermatitis
Suitable for dogs over 2 months old and/or 2kg in weight
Although Spot-On treats fleas, the majority of fleas nestle in the home. If if you are treating your pet for a current infestation, it is recommended that you treat your home too.
**This product needs a prescription in the Republic of Ireland and cannot be shipped to Denmark**
To ensure that you read the most up to date information about this product, please check the VMD's Product Information Database.
Legal category: NFA_VPS | Eliminall Dog Spot On
Ingredients
1 pipette of 1.34ml contains: Fipronil 134mg, Butylhydroxyanisole (E320) 0.27 mg, Butylhydroxytoluene (E321) 0.13 mg.
Dosage
Weight (kg)
1 pipette of (ml)
2-10
0.67
10-20
1.34
20-40
2.68
40-60
4.02
For dogs over 60kg bodyweight, use 1 pipette of 4.02 and a smaller pipette to make the weight.
Customer reviews
Product reviews are filtered by language.
The following reviews are available in English.
Excellent product

Have been using this product for quite a while now and found this the perfect flea treatment .

Excellant

One of the cheaper brands yet has all the same chemicals as the more expensive ones. No adverse reactions so I'll continue to use it on my dogs.

Delighted with everything I have order.

Delighted with everything I orders and free delivery if you spend £19.00 excellent service.

Dog food

My order arrived promptly and on time thank you

Does what it says

I have used many flea treatments for my miniature schnauzer who suffers from flea allergy (fad) and this is the best one I have used by far, this is also a great price compared to what you would pay at your vets and with 3 in a pack you don't have to worry especially at this price.my pooch went longer than the 2 months stated before needing another pipette so I highly recommend investing in this product